Tuesday, January 28, 2014
Page 1
S.C. Denies Ex-Journalist Glass License to Practice Law
Justices Say 'Fabulist' Author Failed to Prove Rehabilitation
By MICHAEL J. PEIL, Staff Writer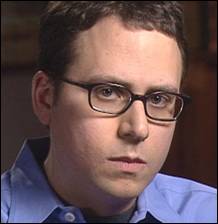 STEPHEN R. GLASS
Ex-Journalist
Stephen R. Glass, who became infamous after he was caught fabricating material for national publications as a journalist, failed to demonstrate sufficient rehabilitation to gain admission to practice law, the California Supreme Court ruled yesterday.
In an unsigned ruling, the state's high court unanimously rejected the State Bar Review Department's finding that Glass had established good moral character, explaining that much of the evidence presented by Glass indicated that his efforts to rehabilitate were aimed at advancing his own well-being rather than the betterment of the community.
Glass, 41, presented various character witnesses, evidence of successful therapy, and documentation of pro bono legal work that he had completed to establish his rehabilitation.
This evidence was insufficient, the court held, to carry the burden, saying:
"The record of Glass's therapy does not represent 'truly exemplary conduct in the sense of returning something to the community.'…12 years of therapy primarily conferred a personal benefit on Glass himself….Glass points to the pro bono legal work …but we observe that pro bono work is not truly exemplary for attorneys, but rather is expected of them. "
Glass began fabricating material for publication in June 1996, while working for The New Republic and continued to do so until May 1998, when a journalist from another publication notified the magazine's then-editor, Charles Lane, of apparent falsehoods in the stories.
Glass eventually admitted to the State Bar that "all but a handful" of the 42 articles he authored for The New Republic entailed some fabrication. As a freelance journalist, he had also published articles containing admitted falsehoods in Harper's Magazine, Rolling Stone, and other magazines.
Glass, a graduate of Georgetown University's law school, received his degree there in 2000. He initially applied to the New York State Bar, but withdrew after being informed informally that his application would be denied on "character and fitness" grounds.
In his application to the New York bar, Glass represented 20 of his published articles as containing the full extent of his fabrications.
At his evidentiary hearing in California, Glass explained that he only reported the 20 articles, rather than every article based on fabrications, because he believed the bar was only requesting instances where his falsifications "had a harmful impact on real persons."
At the time of applying to the New York Bar, Glass also alleged to have worked with the publishers of his prior work to identify what content he had falsified, so that the magazines could publish clarifications.
Lane disputed that, saying Glass had failed to assist in the identification process, placing the entire burden on The New Republic to separate fact from fiction.
In 2004, Glass moved to California where he was hired as a law clerk by Carpenter, Zuckerman & Rowley.
Paul Zuckerman, a founding partner of the firm, testified that Glass was one its best employees, and that Glass had a reliable commitment to honesty.
Character witnesses on Glass's behalf also included psychiatrists, fellow lawyers, judicial employees, a journalist, and Martin Peretz, the longtime owner of The New Republic.
Peretz explained that he had grown charitable towards Glass, taking partial blame on behalf of the publication for encouraging Glass to publish shocking articles, while failing to recognize the unlikelihood that his stories were fully truthful.
After passing the California bar exam in 2006, Glass filed for a determination of his moral character. The Committee of Bar Examiners denied his application, and upon Glass's request for a hearing, the State Bar Court heard his case in April and May 2010. The hearing judge determined that Glass had established good moral character.
Upon review, a majority of the three-judge panel agreed, expressing concern over Glass's New York bar application and his failure to fully identify the fabricated articles at that time, but said his character witness evidence outweighed that of his prior bad acts.
The high court, disagreeing, said "the Review Department majority accorded too much probative value to the testimony of Glass's character witnesses."
The justices emphasized the continuing nature of the deceptions, saying:
"Glass not only spent two years producing damaging articles…he also routinely expended considerable efforts to fabricate background materials to dupe the fact checkers assigned to vet his work. When exposure threatened, he redoubled his efforts to hide his misconduct, going so far as to create a phony Web site and business cards and to recruit his brother to pose as a source."
The Supreme Court also emphasized that Glass's behavior was reprehensible because it took place while Glass was a law student, explaining that honesty gains new meaning during that time.
Glass expressed remorse, the court noted, but said remorse does not establish rehabilitation.
The high court concluded:
"[Glass's witnesses] argue that he has already paid a high enough price for his misdeeds…but we must recall that what is at stake is not compassion for Glass…[as it is] our duty to protect the public and maintain the integrity and high standards of the profession."
Glass' attorney, John B. Eisenberg, told the MetNews:
"Mr. Glass appreciates the court's consideration of his application and respects the court's decision."
A movie, "Shattered Glass," was released about the events surrounding Glass's journalism career. He also published a novel, "The Fabulist," in 2003, which told his side of the story in fictional form.
The case is In re Glass, 14 S.O.S. 439.
Copyright 2014, Metropolitan News Company