Wednesday, October 22, 2014
Page 1
Deputy City Attorney Chris Garcia Pleads No Contest in Child Pornography Case, Faces Summary Disbarment
By a MetNews Staff Writer
Los Angeles Deputy City Attorney Chris Garcia yesterday entered a plea of no contest to a child pornography possession charge.
Garcia, 57, entered his plea before Los Angeles Superior Court Judge Robert Vanderet. He was placed on probation for five years and ordered to register as a sex offender for life. The judge also advised him that he will lose his law license and ordered him to receive sex offender counseling, the District Attorney's Office said in a release.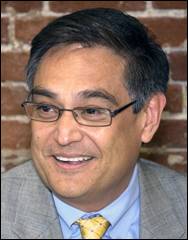 CHRIS GARCIA
Deputy City Attorney
Prosecutors said a search warrant was served last November at Garcia's residence in San Pedro and child pornography images were found on his computer. The City Attorney's Office explained at the time of Garcia's arrest last month that it had been notified of the district attorney's investigation around the time of the search and had placed him on administrative leave.
Garcia, a deputy city attorney since 1999, was one of eight candidates in 2010 for a Los Angeles Superior Court open seat, and did not survive the primary election. The seat was won in the general election by then-Referee Randy Hammock.
In 2008 and 2009, Garcia was a special assistant U.S. attorney, holding simultaneous assignments in the city attorney's Identity Theft & Fraud Unit and the Major Frauds Section of the U.S. Attorney's Office.
The dual role involved prosecuting identity theft, government benefit fraud and piracy of intellectual property. He previously worked in the city attorney's Consumer Protection Section, its Ethics, Training & Legislation Section, and in Central Trials.
He also worked as an adjunct professor of law at Glendale University College of Law—teaching legal research and writing, trial advocacy and introduction to cyber-crimes—but is no longer listed on the school's website.
Garcia attended college at UC Berkeley, and worked on tort litigation matters as a law clerk for Lawler, Felix & Hall in Los Angeles after graduating from Harvard Law School in 1982.
However, he joined his family's business the following year—R.G. Construction Co. in San Pedro—where he handled bidding and contract negotiations, and obtained building permits and inspections as a construction supervisor.
Garcia stayed in construction for three years, but after admission to the State Bar in 1986 he joined Rucker & Clarkson in Westwood as an associate, litigating complex commercial matters.
He later joined Cox, Castle & Nicholson in Century City, where he also litigated complex civil disputes, but in 1989 he returned to Rucker & Clarkson and litigated real estate, securities, antitrust and insurance bad faith matters.
Garcia entered solo practice in Glendale in 1991, concentrating on real estate, construction, landlord/tenant, personal injury and criminal defense matters until he joined the City Attorney's Office.
He served as director of the Asian Pacific Prosecutors' Association from 2000 to 2001, and was a member of the Superior Court's Dispute Resolution Services from 1994 to 1998. Garcia also served as a crash settlement officer for the Superior Court in Glendale from 1994 to 1998.
Copyright 2014, Metropolitan News Company