Monday, September 8, 2014
Page 1
Deputy L.A. City Attorney Chris Garcia Arrested on Child Pornography Charges
By a MetNews Staff Writer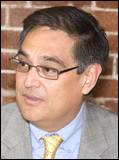 CHRIS GARCIA
Deputy Los Angeles City Attorney
Deputy Los Angeles City Attorney Chris Garcia, an unsuccessful 2010 candidate for a Superior Court judgeship, has been arrested on suspicion of possessing and distributing child pornography.
He was arrested late Thursday by Los Angeles police at his home following a search, pursuant to a warrant. His computer and other evidence were seized.
Garcia was reportedly freed after posting a $40,000 bond.
A spokesperson for Los Angeles City Attorney Mike Feuer said the office became aware of Garcia's alleged activity 10 months ago and put him on administrative leave.
Garcia was one of eight candidates in 2010 for a Los Angeles Superior Court open seat, and did not survive the primary election, The seat was won in the general election by then-Referee Randy Hammock.
The candidate was previously a special assistant U.S. attorney.
He graduated from Harvard Law School in 1982, and practiced with Cox, Castle & Nicholson and with Rucker & Clarkson, before becoming a sole practitioner in 1999. He is also an adjunct professor at Glendale University College of Law.
Copyright 2014, Metropolitan News Company