Friday, January 3, 2014
Page 1
S.C. Says Sergio Garcia Fit to Practice Law
New Legislation Lifts Only Obstacle to Undocumented Alien's Admission, Court Rules
From Staff and Wire Service Reports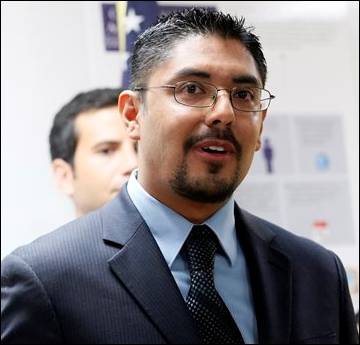 —AP
In this file photo, Sergio Garcia speaks at The Coalition for Humane Immigrant Rights of Los Angeles news conference in Los Angeles two weeks ago.
The California Supreme Court granted a law license yesterday to a man who has been living in the U.S. illegally for two decades, a ruling that advocates hope will open the door to immigrants seeking to enter other professions such as medicine, nursing and accounting.
With Chief Justice Tani Cantil-Sakauye writing for a unanimous court, the justices said a new state law, which took effect Wednesday, eliminated any legal obstacle to Sergio Garcia's admission to the State Bar of California.
When the case was argued Sept. 4, several justices suggested their hands were tied by 8 U.S.C. §1621, which declares that an undocumented alien "is not eligible for any State or local public benefit," including a professional license. The statute contains an exception, however, when state legislation expressly permits such aliens to receive the benefit.
Within days of the oral argument, lawmakers took AB 1024, which dealt with an unrelated issue, and amended it to make it a vehicle for the possible licensure of Garcia and future applicants in his position.
The legislation passed the Assembly 62-4 and the Senate 29-5, and Gov. Jerry Brown signed it into law Oct. 5. The high court then asked the parties and amici to brief the effect of the legislation, which added the following language to the State Bar Act:
"Upon certification by the examining committee that an applicant who is not lawfully present in the United States has fulfilled the requirements for admission to practice law, the Supreme Court may admit that applicant as an attorney at law in all the courts of this state and may direct an order to be entered upon its records to that effect. A certificate of admission thereupon shall be given to the applicant by the clerk of the court."
No Time Wasted
The case was ordered resubmitted as of yesterday's date, and the court wasted no time in issuing its ruling that the new law disposes of the statutory and public policy issues in the case, because "there is no other federal statute that purports to preclude a state from granting a license to practice law to an undocumented immigrant," the chief justice wrote.
In a footnote, the chief justice noted that the Committee of Bar Examiners, which recommended Garcia's admission, had subsequently recommended two similarly situated applicants for admission. The case of Elizabeth Y. De la Torre Arambula was placed on hold pending the ruling as to Garcia, while Oscar Espino-Padron was ordered admitted after obtaining asylum.
Similar cases are pending in Florida and New York, and the Obama administration has made it clear it will oppose bar entry to immigrants unless each state's Legislature passes its own laws allowing it, University of San Francisco law professor Bill Hing said. Hing worked on the Garcia case on behalf of the State Bar.
Garcia, who attended law school and passed the bar exam while working in a grocery store and on farms, can begin practicing law immediately.
String of Victories
The decision is the latest in a string of legal and legislative victories for people who are living in the country without permission. Other successes include the creation of a path to citizenship for many young people and the granting of drivers licenses in many states.
"This is a bright new day in California history and bodes well for the future," the Coalition for Humane Immigrant Rights of Los Angeles said in a statement.
The case produced a rare split between Attorney General Kamala Harris, who argued personally before the court as amicus in favor of Garcia, and the administration, which contended that §1621 precluded admission. Nick Pacilio, a spokesman for Harris, hailed the ruling and said that California's success "has hinged on the hard work and self-sufficiency of immigrants like Sergio."
It was unclear how many people will qualify to practice law under the ruling and whether it will spread to other states. Legislatures and governors in more conservative states such as Alabama and Arizona are likely to be less receptive to the idea.
Alabama recently agreed to a settlement barring enforcement of several provisions of a law that proponents acknowledged was designed to make life so onerous for undocumented immigrants that they would leave the state. One of the enjoined provisions would have required schools to identify students whose parents were in the country illegally.
Garcia, who plans to be a personal injury attorney in his hometown of Chico, said he hoped the ruling would serve as a "beacon of hope" to others in the same situation. But while he can start a practice, some questions remain unresolved, such as whether Garcia can argue cases in federal court or in other states.
Federal law makes it illegal for law firms to hire him.
Cantil-Sakauye, however, rejected arguments submitted by amici in opposition to his admission that undocumented immigrants, by their very presence, are defying federal law and therefore lack the moral character to be lawyers.
"Past California cases…do not support the proposition, implicit in amicus curiae's contention, that the fact that a bar applicant's past or present conduct may violate some law invariably renders the applicant unqualified to be admitted to the bar or to take the required oath of office," the chief justice wrote. "…We conclude the fact that an undocumented immigrant is present in the United States without lawful authorization does not itself involve moral turpitude or demonstrate moral unfitness so as to justify exclusion from the State Bar, or prevent the individual from taking an oath promising faithfully to discharge the duty to support the Constitution and laws of the United States and California."
She noted that an undocumented immigrant does not commit a crime by being present in the country, although he would be subject to administrative sanctions, and that the federal government has broad discretion as to what sanctions, if any, to impose. The court's independent review of the record, she said, supports the bar examiners' conclusion that Garcia, as an individual, is of good moral character.
Garcia arrived in the U.S. as a teenager to pick almonds with his father, who was a permanent legal resident. His father filed a petition in 1994 seeking an immigration visa for his son. It was accepted in 1995, but because of the backlog of visa applications from people from Mexico, Garcia has never received a visa number.
He applied for citizenship in 1994 and is still working toward that goal.
Garcia, 36, worked in the fields and at a grocery store before attending community college. He then became a paralegal, went to law school and passed the bar on his first try. Harris had supported Garcia's petition, and applauded the court's ruling.
The case is In re Garcia, 13 S.O.S. 1
Copyright 2014, Metropolitan News Company