Thursday, July 3, 2014
Page 3
Terry Friedman: No Interest in Administrative Director Post
By a MetNews Staff Writer
Retired Los Angeles Superior Court Judge Terry Friedman said yesterday he has no interest in serving as administrative director of the state courts.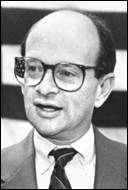 TERRY FRIEDMAN
Retired Superior Court Judge
Friedman and State Bar Executive Director Joseph Dunn were mentioned in a wire service report Tuesday as possible aspirants for the post, which Steven Jahr is giving up after two years. Dunn, a former state senator and unsuccessful candidate for state controller, and onetime chief executive of the California Medical Association, did not return a phone call seeking comment on his interest.
Friedman, who was reached while traveling outside the state, told the MetNews that he had not seen the report, had no idea why his name surfaced, and was quite content in his present role as a private judge.
"I think the world of the Judicial Council and the chief justice," he said. "But I am gainfully and happily employed doing arbitration and mediation with JAMS in Los Angeles."
Friedman said Jahr had been "a highly effective, responsible, evenhanded director" who had been unfairly maligned as a branch "insider" by the Alliance of California Judges. The alliance Tuesday said it hoped the next director would be more independent of the chief justice and the bureaucracy.
Friedman, a Superior Court judge from 1995 to 2010 and a state legislator for eight years before that, said he would not automatically rule out anyone for the post based on current affiliation, or lack of affiliation, with the branch.
"I think it should be somebody with good communication skills, an appreciation for the legislative process and ability to work well with people and a commitment to a strong and effective and independent judicial branch," he said.
Copyright 2014, Metropolitan News Company