Tuesday, April 29, 2014
Page 3
Senate Confirms Friedland, Giving Ninth Circuit Historic 29th Judge
By a MetNews Staff Writer
The U.S. Senate yesterday confirmed President Obama's nomination of Michelle T. Friedland to be a judge of the Ninth U.S. Circuit Court of Appeals.
Senators voted 51-40 to approve the San Francisco litigator's ascension to the court, which will now have 29 judges, making it the largest appellate court in the history of the federal judiciary. The 29th seat was authorized in 2009 but the court has not had a full complement of judges in that time.
Only one Republican, Susan Collins of Maine, voted in favor of the nomination, while all 40 "nay" votes came from Republicans.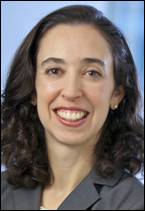 —Munger, Tolles & Olson
MICHELLE FRIEDLAND
Ninth Circuit Judge-designate
The court said in a release that Friedland, at 41, will be the fourth youngest judge in the court's history, after now-Chief Judge Alex Kozinski, appointed in 1985 at age 35; now-Supreme Court Justice Anthony M. Kennedy, who was 38 when he joined the court in 1975; and now-Senior Judge Mary M. Schroeder, who was 38 when she was appointed in 1979.
Kozinski said in a statement:
"The Ninth Circuit is the nation's busiest appellate court. Having a full bench will bolster the court's ability to dispense justice and resolve disputes in a fair and timely manner. We welcome the appointment of Ms. Friedland and look forward to her contributions to the work of our court."
Friedland is a San Francisco-based litigation partner in Munger, Tolles & Olson and will have chambers in that city, the court's media office said. She is a Berkeley native who graduated Stanford Law School in 2000 and is a lecturer at the school.
She has played an active role in gay rights litigation, including the challenge to California's Proposition 8 and the defense of California's law banning gay conversion therapy for minors, leading to her being described as "radical" in some conservative circles.
Her supporters responded with testimonials from conservative scholars and lawyers, including partners in her firm and fellow ex-clerks at the Supreme Court. Friedland clerked for Justice Sandra Day O'Connor, who attended her confirmation hearing in a show of support.
She will fill a vacancy created when Judge Raymond Fisher took senior status in April of last year.
The Senate confirmed one other Obama nominee yesterday, voting 51-42 to make David Weil head of the U.S. Department of Labor's Wage and Hour Division. The Boston University School of Management professor, who also serves as a co-director of the Transparency Policy Project at Harvard Kennedy School, was tapped by the president after his first two nominees failed to gain confirmation.
Copyright 2014, Metropolitan News Company