Tuesday, January 28, 2014
Page 1
Judge Challenged, Another Equivocates, as Filing Begins
Lance Ito Takes First Step Toward New Term, but Suggests He May Not Return Nominating Papers
By KENNETH OFGANG, Staff Writer
One Los Angeles Superior Court judge drew a challenger, and another declared his intent to run for reelection but said he might not follow through with his candidacy, as the period for filing declarations of intent to run for the Los Angeles Superior Court opened yesterday.
Deputy District Attorney Carol Najera filed for the seat of Judge James Pierce, confirming that she has been planning for some time to take on the incumbent. Pierce, a judge since 1989 and a referee and commissioner before that, filed his declaration a few minutes after Najera.
Also filing yesterday was Deputy District Attorney Shannon Knight, who lost a bid for an open seat two years ago. She filed for the seat now held by Judge Lance Ito, who has been on the bench for 27 years and is probably the court's best-known judge as a result of having presided over the 1995 O.J. Simpson double-murder trial.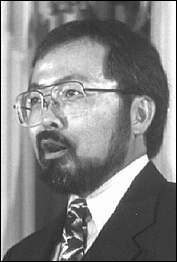 LANCE ITO
Superior Court Judge
Knight said she had spoken to Ito over the weekend, and that the judge said he was not running. But Ito showed up at the filing window in Norwalk about three hours after Knight.
The judge would not comment on what he might have said to Knight, but declared that he was "keeping his options open" with regard to a possible bid for another six-year term. He noted that he does not have to make a final decision until March 7, the deadline for returning nominating documents.
Declarations Process
State law allows a candidate to file declarations of intent to run for more than one seat, prior to finalizing a candidacy during the nominations period, so Knight could move into another race if Ito stays in. To do so, she would have to file a new declaration of intent—and pay a separate $1,812.92 filing fee—by Feb. 10.
Najera, who lost a bid for an open seat 10 years ago—then-Commissioner Donna Groman eventually won it—told the MetNews she felt she had "the experience, and the temperament" to fill a judicial role. "I did consider running for an open seat" again this time, she explained, but didn't want to run against a fellow deputy district attorney.
She noted that she has been endorsed by the Association of Deputy District Attorneys, and said she was seeking other endorsements. Not having used a campaign consultant in her underfunded 2004 race, she said she "not at the point where I need a consultant" but was considering hiring one later in the campaign.
She was vague as to her reasons for challenging Pierce, but suggested the judge was not well-regarded by attorneys at the Long Beach courthouse where he has long sat on the bench. Najera also works in Long Beach, but she has never been assigned to Pierce's courtroom.
Najera, who was rated "not qualified" in her previous race, said she was undecided whether to participate in the Los Angeles County Bar Association's evaluation process this time around. She also would not rule out the possibility of moving to a race for an open seat.
Pierce said he knows nothing about Najera—"I couldn't pick her out of a lineup," he said—and expressed bafflement as to why a prosecutor who has never tried a case in front of him would challenge him for the seat he has held for almost a quarter-century.
New Candidate
In other news, Deputy District Attorney and La Raza Lawyers of California president Efrain Aceves told the MetNews he will be running for one of the open seats.
Aceves, a 16-year prosecutor who is also a third-term school board member in Whittier, said he has not targeted a seat because he prefers not to run against a fellow lawyer from his own office and is hopeful that additional seats will open. But he said he would not hesitate to run against a colleague if he has to.
Several deputy district attorneys who had already announced which open seats they were running for filed their papers yesterday. They included Ann Park, who is running for the post now held by Judge Arthur M. Lew; Serena Murillo, who hopes to succeed Judge Daniel Lopez, Andrew Cooper, seeking the seat of Judge Jessica Silvers, Stacy Okun-Weise, who is running for the post from which Judge Bruce Minto is retiring; Alison Matsumoto Estrada, who has targeted the seat being left open by Judge Harvey Giss; Donna Hollingsworth Armstrong, who hopes to succeed Judge Carlos Uranga; Chris Frisco, who is running for the seat of Judge Joseph Di Loreto, Teresa Magno, who is running for the seat of Judge David Milton; Amy Carter, who is running for the seat of Judge Michael Solner; and Dayan Mathai, who hopes to replace Judge Michael Nash.
Also, private attorney Douglas Weitzman, who has previously posted on a legal website that he plans to run, said in an email that he is undecided about whether he will. But he suggested he was more likely to run for an open seat than to challenge an incumbent.
Weitzman has run four times previously, most recently two years ago, when Judge Lynn Olson beat him by more than 2-1.
Copyright 2014, Metropolitan News Company