Wednesday, January 8, 2014
Page 1
Edmon Under Consideration for C.A., MetNews Learns
By a MetNews Staff Writer
Los Angeles Superior Court Judge Lee S. Edmon is being considered for appointment to this district's Court of Appeal, the MetNews has learned.
Edmon, who is assigned to the appeals court's Div. Four through the end of next month, did not return a call seeking comment. She has been a Superior Court judge since 2000, when she was appointed by then-Gov. Gray Davis.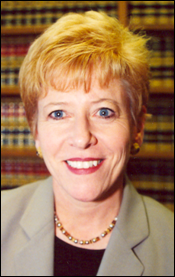 LEE S. EDMON
Los Angeles Superior Court Judge
She was the court's first female presiding judge, holding the post in 2011 and 2012 before being assigned to a complex civil trial court.
On the occasion of her election as assistant presiding judge, she called that event "a natural evolution of where the court is now." She opined that her gender was not a factor, explaining that "there's lots more women on the bench and lots more women in leadership positions," so it was just a matter of time before a woman was elected.
In April 2013, the Los Angeles County Bar Association selected Edmon as the recipient of its 2013 Outstanding Jurist Award. In a LACBA press release announcing its selection, the association stated that "[h]ighlights of her judicial career include her exemplary service as Presiding Judge during which time she guided the court through severe budget and staff reductions."
In 2012, she was presented California Lawyers' Joan Dempsey Klein Distinguished Jurist Award.
Then-California Chief Justice Ronald M. George named Edmon to the Judicial Council of California in June 2008.
In 2006 Edmon was named the Alfred J. McCourtney Trial Judge of the Year by the Consumer Attorneys Association of Los Angeles.
Edmon served as president of the County Bar from 1998 to 1999, following terms as its senior vice president and vice president/treasurer.
She has also served as a fellow of the American Bar Association since 1991, chair of more than five Los Angeles County Bar Association committees, president of the Board of Directors of the American Bar Endowment, president of the Chancery Club, and a lawyer representative to Ninth Circuit Judicial Conference.
Additionally, Edmon has been a member of the Association of Business Trial Lawyers, and has served on the governing boards of the University of Illinois College of Law (Board of Visitors), the Los Angeles County Law Library, Legal Aid Foundation of Los Angeles, Alliance for Children's Rights, Inner City Law Center, Women Lawyers Association of Los Angeles and the Constitutional Rights Foundation.
Edmon graduated from the University of Illinois College of Law in 1981. She then began her legal career with the law firm of Adams, Duque and Hazeltine. In 1987, she moved to the now-defunct international corporate law firm of Dewey Ballantine LLP, where she became a partner in 1990.
The MetNews has previously reported that U.S. District Judge Audrey B. Collins, Los Angeles Superior Court Judges Sanjay T. Kumar and Brian Hoffstadt, and Southwestern Law School professor Christopher Cameron are under consideration for appointment to the Court of Appeal. There are currently four vacancies in this district, with two more scheduled to occur by the end of February.
Copyright 2014, Metropolitan News Company