Wednesday, June 11, 2014
Page 1
Services Scheduled for Retired Judge Reginald A. Dunn
By a MetNews Staff Writer
Services are scheduled next week for retired Los Angeles Superior Court Judge Reginald A. Dunn, who died May 29 at the age of 82.
Presiding Judge David Wesley informed his colleagues of Dunn's death by email yesterday.
Dunn was appointed to the court by then-Gov. George Deukmejian in 1989, a year after losing an election for an open seat to then-Los Angeles Municipal Court Judge Malcolm Mackey. He was chief of criminal operations for the Los Angeles City Attorney's Office at the time of his appointment.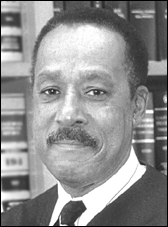 REGINALD A. DUNN
1931-2014
He retained his seat without opposition a year later, but was challenged in 1996 by Los Angeles attorney Kenneth Griffin, who had lost a civil case in Dunn's courtroom a few years earlier.
Dunn defended his record, got a "well qualified" rating from the County Bar, hired Cerrell Associates Inc. as his campaign consultant, and won over 70 percent of the vote.
The son of a Jamaican immigrant, he grew up in Harlem and the Bronx and came to Los Angeles after serving a tour of duty in the U.S. Navy and working for the Ohio Youth Commission as a "cottage parent" in a home for delinquent minors. He worked as a California Youth Authority probation officer while attending Loyola Law School, from which he graduated in 1970, then accepted a position as a deputy public defender.
He switched gears in 1977, when he joined the City Attorney's Office. He worked as a criminal trial deputy, then as a special assistant to then-City Attorney Burt Pines, until 1981. He moved over to the Department of Water Power, which he represented in inverse condemnation, toxic waste and personal injury litigation, then went back to the criminal unit as chief in 1984.
As a judge, he was assigned to Central Criminal from 1989 to 1992 and Central Civil from 1993 until his retirement on Jan. 3, 2003. He equivocated about running for reelection in 2002, filing a declaration of intent but ultimately deciding not to turn his nominating papers.
He later went into private judging and more recently sat on assignment.
His brother, G. William Dunn, was a Long Beach Municipal Court judge from 1979 to 2000 and died in 2001.
A viewing will take place Sunday from noon until 5 p.m., with funeral services Monday at 11:30 a.m., both at the Inglewood Cemetery Mortuary, 3801 W. Manchester Boulevard, Inglewood 90305. The phone number is 310-412-6811.
Copyright 2014, Metropolitan News Company