Friday, February 14, 2014
Page 1
Three Former Governors Launch Death Penalty Initiative
By MICHAEL J. PEIL, Staff Writer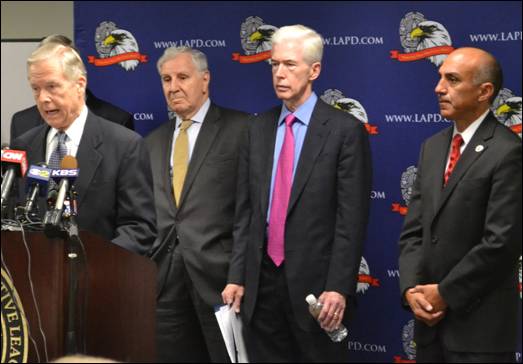 —Staff Photograph by Michael J. Peil
Former governors Pete Wilson, George Deukmejian and Gray Davis and San Bernardino District Attorney Mike Ramos announcing launch of Death Penalty Reform and Savings Act petition drive yesterday at the Los Angeles Police Protective League offices.
Three former governors yesterday joined former Los Angeles District Attorney Steve Cooley and others to boost a new initiative campaign to expedite death penalty appeals, among other things.
Former governors George Deukmejian, Pete Wilson, and Gray Davis, San Bernardino District Attorney Mike Ramos, and victims' advocates unveiled the Death Penalty Reform and Savings Act at a press conference held at the Los Angeles Police Protective League offices.
Davis said the measure will create a 10-year appellate process, five years in the state system and another five years of federal habeas proceedings, compared to what he described as a 30-year appellate process under the current system.
Wilson agreed, saying the "reforms will change the endless abuse of the habeas corpus procedure, the endless appellate process, that really defeats justice."
He also said:
"Old age should not be the leading cause of death on death row. But it literally has been."
Ramos said that the initiative will fix the broken parts of the death penalty system by focusing on three areas, the appellate process, the time in which appellate counsel is appointed, and fiscal savings.
According to a handout created by the initiative's support group, the reform will eliminate automatic appeals to the California Supreme Court, allowing claims to first be heard by the California Court of Appeal. This procedural change will spread the appeals among the courts and allow the defendant's claims to be heard sooner.
The initiative will also reform the time it takes for a capital defendant to be appointed an appellate lawyer.
Davis said, under the current process, it's "very common, for someone who the judge has sentenced to death to have to wait five years before they are assigned an attorney. That's unacceptable."
He said, "Under this initiative, they will get an attorney assigned to them within a year."
The state will save money, Ramos explained, by moving prisoners from death row to housing across the state.
Davis said that death row inmates should no longer get "special housing privileges" of one person per cell. He said that at least two death row inmates should inhabit a cell, and that such living arrangements would save tens of millions of dollars.
The initiative also seeks to have Death Row inmates work in prison to pay restitution to victims' families, with any refusal to work or pay resulting in a loss of privileges.
In 2012, California voters rejected Proposition 34, with a vote by 52 percent of voters rejecting the measure, which would have ended the use of the death penalty.
The Associated Press said former District Attorney Gil Garcetti, who is leading the opposition, called the initiative a misguided effort and predicted legal challenges would take decades to resolve.
Cooley explained that, after the public validated the death penalty in 2012, the initiative resulted from a team effort, incorporating suggestions from deputy district attorneys, Ninth U.S. Circuit Court of Appeals Judge Arthur Alarcon, and former Chief Justice Ronald George.
Davis said:
"Many of the ideas, not all, but many of the ideas that are incorporated into this initiative actually came from the ACLU and people who objected to the appellate process."
That was disputed by Ana Zamora, a spokesperson for the ACLU, who told the MetNews
"The ACLU does not support any provision of the proposed initiative….There is no chance that the death penalty could ever be fixed. This flawed proposal will only make matters worse. It will create more delays, and overburden our already strained court system. Worst of all, it will greatly increase that California could execute an innocent person."
Asked whether Gov. Jerry Brown will support the initiative, Davis—Brown's onetime chief of staff—said, "I don't think any of us speak with Gov. Brown."
Copyright 2014, Metropolitan News Company