Thursday, August 28, 2014
Page 1
Judge Stephen Czuleger to Teach Law Students in Albania
By a MetNews Staff Writer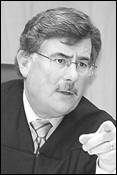 J. STEPHEN CZULEGER
Superior Court Judge
Los Angeles Superior Court Judge J. Stephen Czuleger will teach law students in Albania this fall, the State Department said yesterday in a release.
Czuleger, who was first introduced to Albania when his son was a Peace Corps volunteer there, will conduct classes on the "Rule of Law" as well as U.S. constitutional law and criminal and civil law and procedure at the Tirana University School of Law in the nation's capital, the release said.
Czuleger will teach for four weeks as part of the Fulbright Specialists Program, which sends American educators and other professionals overseas to teach for brief periods of time. The release said Czuleger "is one of a few select sitting judges to receive this honor and the first judge to accept an invitation to teach in Albania."
Czuleger, 63, has been a judge of the court since 1990 and was assistant presiding judge in 2005 and 2006 and presiding judge in 2007 and 2008.
He graduated from the University of Santa Clara in 1973 and from Loyola University Law School in 1976. He was an assistant U.S. attorney in Los Angeles from 1977 to 1979; an associate with Bird, Marella, Boxer, Wolpert & Matz from 1979 to 1982; and a special attorney with the Justice Department Organized Crime Strike Force in San Francisco from 1982 to 1984.
He returned to the U.S. Attorney's Office in 1984 and served there until his appointment to the Los Angeles Municipal Court by then-Gov. George Deukmejian in 1988. Deukmejian elevated him to the Superior Court two years later.
Copyright 2014, Metropolitan News Company