Thursday, February 20, 2014
Page 3
Coalition Calls on Leaders to Reduce Prison Population
By a MetNews Staff Writer
A coalition of legal, political, and social activist organizations yesterday called on state leaders to take immediate steps to reduce California's prison population, rather than run out the two years recently granted for compliance with prior court orders.
Californians United for a Responsible Budget—which includes the Western Center on Law and Poverty, the Youth Justice Coalition of Los Angeles, and the Bay Area Chapter of the National Lawyers Guild, among others—made the plea at a press conference in downtown Los Angeles.
Spokespeople, gathered at the Ronald Reagan State building in downtown Los Angeles, delivered the letter to the office of Speaker of the Assembly John Perez, and said the group would also deliver copies to Gov. Jerry Brown and Senate Pro Tem Darrell Steinberg in San Francisco and Sacramento.
A MetNews call to Perez's office went unanswered.
In the letter, CURB urged the Legislature to enact durable solutions to prison overcrowding by implementing parole and sentencing reforms, canceling all prison expansion plans, and expanding good-time credit release programs.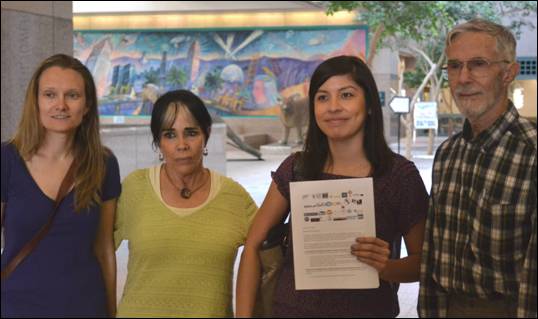 —Staff photograph
Members of the Californians United for a Responsible Budget, Emily Harris, Geri Silva, Diana Zuniga, and Joe Maizlish, yesterday at the Ronald Reagan State Building, called on state officials to reduce the state's prison population immediately.
In 2011, the United States Supreme Court held that California's overcrowded populations must be reduced since the living conditions violated a prisoner's Eighth Amendment ban on cruel and unusual punishment.
On Feb. 10, a three-judge federal panel, in Coleman v. Brown, C01-1351 TEH, granted Brown a two-year extension to comply with a court order from 2009 to reduce the California prison population from the current capacity of 144 percent to 137.5 percent by the end of 2013.
The panel said:
"[W]hile we are reluctant to extend the deadline for two more years, we also acknowledge that [Brown has] agreed that, with such an extension, [he] will implement measures that should result in a durable solution to prison overcrowding."
The panel explained that if Brown was ordered to immediately comply with the 2009 reduction order then it would be accomplished by sending thousands of California prisoners to out-of-state facilities.
The panel said that over the four and a half years since its original order, the only measure introduced to reduce prison overcrowding was realignment, which sent non-serious and non-violent criminals from state prison to country jails.
Diana Zuniga, a spokesperson for CURB:
"We appreciate the steps the court has taken to address prison overcrowding and support their order not to send additional prisoners to out-of-state facilities. However, unless we immediately cancel all of Governor Brown's current plans to expand California's prison capacity by over 5,000 new beds, we will not solve the crisis."
Yesterday's letter urges the Legislature to utilize this extension to "finally stem the tide of using incarceration as the solution to California's ills."
Roughly 700 supporters attached their names to the letter.
Copyright 2014, Metropolitan News Company