Wednesday, July 23, 2014
Page 1
Brown Taps Law Professor Cuéllar for High Court
By KENNETH OFGANG, Staff Writer
Gov. Jerry Brown yesterday said he will nominate Mariano-Florentino Cuéllar to the state Supreme Court to succeed Justice Marvin Baxter.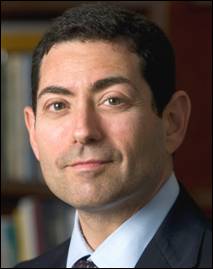 MARIANO-FLORENTINO  CUÉLLAR
Supreme Court Justice Nominee
If confirmed by the Commission on Judicial Appointments and approved by voters Nov. 4, Cuéllar would succeed Justice Marvin Baxter, who declined to seek an additional term.
Cuéllar, 41, has been a Stanford Law School professor since 2001. He has taught administrative law, criminal law and international law, among other subjects.
Cuéllar has been director of Stanford University's Freeman Spogli Institute for International Studies since last year and has also taught political science at the university since 2010. He served as co-director of Stanford's Center for International Security and Cooperation from 2011 to 2013.
"Tino Cuéllar is a renowned scholar who has served two presidents and made significant contributions to both political science and the law," the governor said in a statement. "His vast knowledge and even temperament will—without question—add further luster to our highest court."
According to background material furnished by the Governor's Office, Cuéllar was born in Matamoros, Mexico and for a number of years walked across the border each day to attend school in neighboring Brownsville, Texas. At age 14, he moved with his family to the Imperial Valley of California, where he graduated from Calexico High School.
Cuéllar went on to earn an undergraduate degree from Harvard College, a law degree from Yale Law School and a doctorate in political science from Stanford.
Obama Aide
Cuéllar served as special assistant to President Obama for justice and regulatory policy at the White House Domestic Policy Council in 2009 and 2010 and was co-chair of the Obama-Biden Transition's Immigration Policy Working Group in 2008 and 2009. He served as a law clerk to Ninth U.S. Circuit Court of Appeals Judge Mary M. Schroeder from 2000 to 2001 and as senior advisor to the undersecretary for enforcement at the U.S. Department of the Treasury during President Clinton's second term.
Cuéllar co-chaired the National Equity and Excellence Commission, created by Congress to advise the Secretary of Education on how to close the achievement gap in American public schools, from 2011 to 2013. He serves as a presidential appointee to the Council of the Administrative Conference of the United States, an agency charged with improving the fairness and efficiency of federal administrative programs, and is a member of the Board of Directors for the Constitution Project, a national bipartisan organization devoted to advancing support for the U.S. Constitution.
He has also been a member of the American Law Institute since 2008 and is now on the ALI Council. His projects at the institute have dealt with criminal sentencing, government ethics, and foreign relations law.
Director of ACS
Cuéllar is a member of the American Law Institute Council and the American Constitution Society Board of Directors. The ACS advocates "individual rights and liberties, genuine equality, access to justice, democracy and the rule of law," and is often described as a progressive counterpart to the conservative Federalist Society.
Cuéllar is married to U.S. District Judge Lucy H. Koh of the Northern District of California. They have two children.
Cuéllar was mentioned in 2011 as a potential pick for Brown's first Supreme Court appointment of his second tenure as governor, but that opening went to another academic, now-Justice Goodwin H. Liu. The governor was criticized at the time by some Hispanic leaders for not picking a Latino to replace the court's only Latino justice, Carlos Moreno.
California Latino Legislative Caucus leaders Sen. Ricardo Lara, D-Huntington Park, and Assemblyman Luis Alejo, D-Salinas, said of Cuellar in a statement:
"Given his extraordinary legal resume and commitment to public service we are confident he will have a distinguished career on our state's highest court. Indeed, he will bring a critical perspective, reliable judgment and even temperament to one of the most vital and challenging positions of service. Mr. Cuéllar's nomination will also add to the diversity of the Supreme Court which should reflect the diversity of our state, including its vast Latino population."
In addition to the vacancy that will result from Baxter's departure, there is a seat that has been vacant since April due to the retirement of Justice Joyce L. Kennard.
Because Kennard retired mid-term, however, the governor is not acting under the same time constraints as he is in replacing Baxter. The state Constitution requires that Baxter's successor be confirmed by Sept. 16 in order to appear on the November ballot.
The compensation for the position is $225,342. Cuéllar is a Democrat.
Copyright 2014, Metropolitan News Company