Friday, June 13, 2014
Page 1
S.C. Lets Stand Ruling Giving Death Row Inmate Access to District Attorney's Capital Case Records
By KENNETH OFGANG, Staff Writer
The California Supreme Court has denied requests that it review or depublish a Court of Appeal ruling that requires prosecutors to turn over to lawyers for a Death Row inmate all documents used in filing charges against homicide suspects in the county between 1977 and 1993.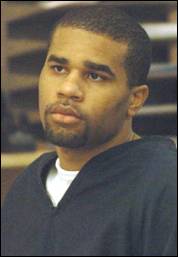 —AP
LA TWON R. WEAVER
Death Row Inmate
The justices, at their weekly conference in San Francisco Wednesday, left standing the March 12 ruling of the Fourth District's Div. One in Weaver v. Superior Court (San Diego County District Attorney's Office), D063768.
La Twon R. Weaver was sentenced to death for the 1993 slaying of a jeweler during a robbery in Vista. Having lost his direct appeal two years ago, he is seeking habeas corpus relief, claiming—among other things—that charging decisions in the county's homicide cases are influenced by racial bias.
Exemption Claimed
The District Attorney's Office opposed Weaver's discovery request, arguing that the documents were exempt as investigatory files, and their disclosure would also implicate the privacy rights of "hundreds of defendants and victims."
The county also contended Weaver's request was overly burdensome under the California Public Records Act arguing it would take 35 to 40 hours for an employee, at $85 per hour, to identify the appropriate records. The task would cost an estimated $3,400.
Court of Appeal Justice Terry O'Rourke said that because charging documents are generally open to the public, they are not investigatory, nor is there any reasonable expectation of privacy.
He added:
"We conclude the public's interest in the fair administration of the death penalty is a longstanding concern in California, and it is inconceivable to us that any countervailing interest that the District Attorney could assert outweighs the magnitude of the public's interest. "
Jewelry Store Murder
Weaver was convicted of killing Michael Broome, owner of a jewelry store located in a Vista shopping mall. The defense argued at his trial that a friend of Weaver's, Byron Summersville, was the actual killer, but two employees and a customer identified Weaver as the sole perpetrator of the crime.
In other conference action, the justices left standing a Court of Appeal ruling invalidating a class action settlement between the City of Los Angeles and disabled plaintiffs alleging city sidewalks lacked wheelchair ramps or cutouts.
This district's Div. One held in Carter v. City of Los Angeles (2014) 224 Cal. App. 4th 808 that a provision barring class members from opting out of the settlement violated due process.
Copyright 2014, Metropolitan News Company