Thursday, June 5, 2014
Page 1
San Diego Jurist to Head All-Female CJA Leadership Team
Former Presiding Judge Lee Edmon to Serve as Groupís Vice President
By a MetNews Staff Writer
The California Judges Association has elected San Diego Superior Court Judge Joan Weber as its new president, heading the 85-year old organizationís first all-female officer team.
Weber was elected by the groupís Executive Board at its meeting Tuesday in Sacramento, the group said in a release. She will serve a one-year term beginning Sept. 14, succeeding Butte Superior Court Judge Robert Glusman.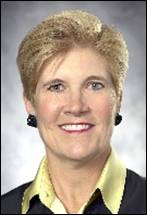 JOAN WEBER
San Diego Superior Court Judge
Los Angeles Superior Court Judge Lisa Lench was the only other candidate for president.
Former Los Angeles Superior Court Presiding Judge Lee Edmon will serve as one of two vice presidents, with San Francisco Superior Court Judge Kathleen Kelly as the other. Elected for another term as secretary/treasurer was Los Angeles Superior Court Judge Michele Flurer.
Weber, 59, has been a judge since 1990, when she was appointed to the San Diego Municipal Court by then-Gov. George Deukmejian. She turned back an election challenge five months after she was appointed, and was elevated to the San Diego Superior Court by then-Gov. Pete Wilson in 1994.
A native of Cincinnati, she graduated from Ohio State University and from law school at the University of Arizona. After law school, she clerked for Ninth U.S. Circuit Court of Appeals Judgeónow Senior JudgeóJ. Clifford Wallace for a year, starting in 1980.
Weber was admitted to the Arizona and California bars in 1981. She spent two years as an associate at a Phoenix law firm before becoming an assistant U.S. attorney in San Diego, a post she held until her appointment to the bench.
She and Lench currently serve as the groupís vice presidents, and she has been on the board since 2012. She sits as a trial judge doing primarily criminal trials.
Weber has served as supervising judge of the Criminal Courts, supervising judge of the North County Court and presiding judge of the Appellate Division. She has also served on the courtís Executive Committee for eight years.
Edmon, the only woman to serve as the Los Angeles Superior Courtís presiding judge, has served on the court since 2000, when she was appointed by then-Gov. Gray Davis.
Her name has been sent by Gov. Jerry Brown to the State Bar Commission on Judicial Nominees Evaluation as a possible appointee to this districtís Court of Appeal.
Copyright 2014, Metropolitan News Company