Wednesday, December 17, 2014
Page 1
Chief Justice Names Chin to Seat on Judicial Council
By a MetNews Staff Writer
Chief Justice Tani G. Cantil-Sakauye said yesterday she has appointed Supreme Court Justice Ming W. Chin to replace Justice Marvin Baxter on the Judicial Council.
The appointment is effective Jan. 5 when Baxter leaves the court, and is for a term expiring Sept. 14, 2017. The appointment is renewable; Baxter has been on the council since 1996, under two chief justices.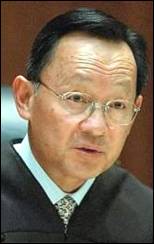 MING W. CHIN
Supreme Court Justice
The California Constitution provides that the chief justice, in addition to chairing the council, appoints the other 14 judicial members, including one from the Supreme Court, as well as nonvoting members.
"Justice Chin has long been a leader on matters of statewide judicial administration, chairing both the visionary Commission for Impartial Courts and the statewide Technology Advisory Committee," the chief justice said in a statement. "He has that invaluable combination of deep knowledge, vision, and collegiality that helps the judicial branch collaborate, self-assess, deliberate, and move forward. I look forward to his contributions on the council."
Chin was named to the Supreme Court in 1996 by then-Gov. Pete Wilson. Wilson had appointed him two years prior as the presiding justice of the First District Court of Appeal, Div. Three.
He began his judicial career with an appointment to the Alameda Superior Court bench in 1988 by then-Gov. George Deukmejian, who elevated him to the appellate court two years later.
Prior to that, Chin was a partner at the Oakland law firm of Aiken, Kramer & Cummings, where he specialized in business and commercial litigation. He joined the firm as an associate after having served three years as a deputy district attorney for Alameda County.
After completing his education, Chin served two years as a captain in the United States Army, including a year in Vietnam, where he was awarded the Army Commendation Medal and the Bronze Star.
He has served on a number of Judicial Council committees and task forces. From 2007 to 2010, he chaired the California Commission for Impartial Courts, and he chaired the Court Technology Advisory Committee for nearly a decade and the Science and the Law Steering Committee from 2005 to 2007.
He also served on the Judicial Council Appellate Advisory Committee and the Advisory Committee on Racial and Ethnic Bias. He was the first Asian American to serve as president of the Alameda County Bar Association.
Chin earned his bachelor's and law degrees from the University of San Francisco, and has served on the university's Board of Trustees as well as the law school's Board of Counselors, and served as an adjunct professor of law. He was admitted to the State Bar in 1970.
Copyright 2014, Metropolitan News Company