Wednesday, March 12, 2014
Page 1
Court Upholds Conviction of Long Beach Accountant In Plot to Overthrow Hun Sen Cambodian Regime
Panel Says Law Against Planning Foreign Murders on U.S. Soil Neither Vague Nor Limited to 'Terrorism'
By KENNETH OFGANG, Staff Writer
A Long Beach accountant was properly convicted of leading a plot to overthrow the Cambodian government, the Ninth U.S. Circuit Court of Appeals ruled yesterday.
The panel affirmed the conviction of Yasith Chhun on charges of conspiring within the United States to commit murder in a foreign country and to damage or destroy property in a foreign country, as well as launching an expedition against a foreign country. He did not appeal his conviction for conspiracy to launch a weapon of mass destruction outside the United States,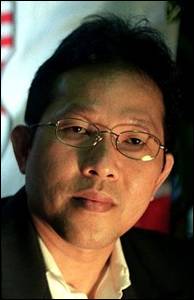 YASITH CHHUN
Convicted Conspirator
In doing so, the judges rejected arguments that the statutes under which Chhun was convicted are ambiguous and vague, that two of the charges should have been dismissed because they apply only to attacks on nations with which the United States is "at peace," and that the life sentence imposed by Judge Dean D. Pregerson was excessive.
Chhun is presently serving his sentence at USP Canaan in Wayne County, Pa., according to Bureau of Prisons records.
'Strip Mall Revolutionaries'
Chhun was indicted in May 2005, 14 months after being extensively quoted in a New York Times article entitled "Strip Mall Revolutionaries." The article described Chhun as the leader of a group called Cambodian Freedom Fighters, who met weekly at Chhun's accounting office and plotted attacks against the Hun Sen regime.
According to the article, and to evidence presented at trial, Chuun—who came to this country as an infant—returned to Cambodia to lead the CFF. from a base on the Thailand side of the Thai-Cambodian border. On Nov. 24, 2000, in what was dubbed "Operation Volcano," about 70 C.F.F. agents slipped into the center of Phnom Penh, attacked a government compound, and engaged government forces in an hour-long battle that reportedly left eight people dead.
More than 200 people were arrested. Chhun fled to Thailand and then returned to Long Beach to raise money and resume his accounting practice. ''I couldn't keep my tax clients waiting,'' he told the Times.
Although the Hun Sen regime was the subject of a congressional resolution accusing it of genocide, and had attracted strident critics in Congress, Callahan was quoted at the time of trial as saying the Bush administration had turned against his client because it wanted to enlist Southeast Asian governments, including Cambodia's, as allies in the "war against terrorism."
Jurors found Chhun guilty on all four charges. Pregerson imposed the life sentence in accordance with the Sentencing Guidelines, noting in particular that he had the intent to kill and that innocent people were in fact killed.
Unambiguous Statute
Judge Carlos T. Bea, writing for the Ninth Circuit, rejected the defense contention that 18 U.S.C. §956(a), the conspiracy-to-murder-abroad statute, is ambiguous and should be either construed as inapplicable to Chhun or held void for vagueness.
The section was enacted as part of the Antiterrorism and Effective Death Penalty Act of 1996. The defense argued that because it was enacted as part of a broad antiterrorism law, the statute should be construed as applying only to attacks on Americans or on American security interests.
Bea disagreed, explaining:
"In this case, there is no ambiguity in the text. The statute prohibits conspiring, while within the jurisdiction of the United States, to commit at any place outside the United States an act that would constitute the offense of murder if committed in the United States' maritime and territorial jurisdiction. Section 956(a) does not limit its application to 'terrorist' acts, or to acts that affect United States citizens or in­terests… Where an unambiguous statutory text exists, it is irrelevant whether Congress did not envision the application in question."
There was, the judge said, substantial evidence that Chhun intended to kill people, and not merely arrest Hun Sen. Bea cited the defendant's own writings, in which he warned that his enemies could "not escape from our volcano" and that the CFF would "send them to . . . hell in the near future."
'At Peace'
The appellate jurist went on to say that Pregerson was correct in submitting the issue of whether the United States and Cambodia were "at peace," during the period of the charged conspiracy, to the jury. He noted that the defense did not object to the jury instructions on that issue themselves, and said they were not plainly erroneous.
Pregerson told the jury that two countries are at peace when they "are not at war with one another or engaged in open and notorious military conflict with one another," and Bea said that was a reasonable definition.
The history of American neutrality laws, Bea said, shows that the relationship between ours and a foreign country may be "distant and tense," but that does not mean we are not at peace, or that efforts to overthrow the other country's government may be launched from American soil.
Judges Diarmuid F. O'Scannlain and Susan P. Graber joined in the opinion.
The case is United States v. Chuun, 10-50296.
Copyright 2014, Metropolitan News Company