Monday, May 5, 2014
Page 1
Calderon Says Adverse LACBA Candidate Rating Ignores His 'Extensive' Experience in Law
By KENNETH OFGANG, Staff Writer
Former state Senate Majority Leader Charles Calderon criticized the Los Angeles County Bar Association's Judicial Elections Evaluation Committee Friday, after it rated him "Not Qualified" for election to the Los Angeles Superior Court.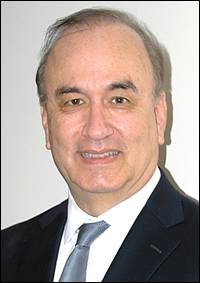 CHARLES CALDERON
Judicial Candidate
Calderon provided the MetNews with a copy of a letter from JEEC Chair Gretchen Nelson, dated Thursday, explaining that while the committee "recognizes your extensive public service and has great appreciation for the work that you have done in the California Legislature and for your early legal work," it "was unable to conclude that you are sufficiently qualified in all areas at this time to assume the job of a judicial officer."
The committee told Calderon it considered him unqualified "based on the Committee's conclusions that you have no recent courtroom experience and lack recent experience practicing law."
Calderon Response
Calderon, who served eight years in the state Senate and six in the Assembly, and was the majority leader in both houses, responded in an email to the MetNews:
"Other highly-respected legal experts, including former California Attorney General and current State Treasurer Bill Lockyer, the Los Angeles Superior Court Presiding Judge David Wesley, the Alliance of California Judges representing 100 judges in Los Angeles County, and the Metropolitan News-Enterprise, have examined my qualifications and disagree with the County Bar's assessment. It appears that the County Bar unexplainably ignored my extensive record as a lawyer in making its decision. I have prosecuted 90 trials as a Los Angeles Deputy City Attorney, with a 95% plus conviction rate. I have significant experience in civil matters including litigation experience. Finally I have authored scores of criminal and civil laws in the legislature and I am a former member of the Judicial Council, the policy making body for the courts. No other candidate in this race brings my level of criminal, civil and legislative experience to this race."
Calderon and Deputy District Attorney Carol Rose are seeking the seat left open by Judge Ronald Sohigian, who retired this month. Rose's campaign consultant David Gould said Friday that Rose, like Calderon, had been tentatively ranked "Not Qualified" but had appealed.
Gould said that Rose was out of town Friday and that he did not know whether she had received an upgrade in her ranking.
Armsted Reconsidered
Gould also reported that another client, Songhai "Sunny" Armsted, had received a final rating of "Qualified" following an unusual reconsideration Thursday night.
Armsted had received a tentative "Qualified" and had not appealed. But she was invited to appear before the committee to explain comments she made recently before an African-American religious group. The remarks, which appear in a YouTube video posted by the group, decry the dearth of African Americans running for the court and question whether the other candidates in the various races "care about the people in this room."
Gould said the reconsideration was less about his candidate and more about him, explaining that he once filed a State Bar complaint against a Pasadena lawyer, Nicholas Connon, who serves as a vice-chair of the JEEC. Connon, he said, should have disqualified himself from rating any of Gould's clients.
Armsted, a supervising attorney in the Los Angeles City Attorney's Office, is running against Deputy District Attorney Teresa Pineda for the seat formerly held by Judge David Milton, who retired in February. Magno did not return a phone call Friday, but Gould said she had been tentatively rated "Not Qualified."
Two other Gould clients were rated "Qualified" following appeals.
Deputy District Attorney Donna Hollingsworth Armstrong failed to upgrade her tentative "Qualified" rating. Deputy District Attorney Andrew Cooper said he had received a final rating of "Qualified," but would not discuss his tentative rating.
Armstrong's opponent is trial attorney Marc A. Gibbons, who did not appeal after receiving a tentative rating of "Qualified." Cooper is running against retired Superior Court Referee Arnold Mednick, who likewise did not appeal a "Qualified" rating.
Copyright 2014, Metropolitan News Company