Monday, October 20, 2014
Page 1
Court Approves Budget, Is Set to Reopen 11 Courtrooms
By a MetNews Staff Writer
The Los Angeles Superior Court Executive Committee has approved a budget for the current fiscal year that will allow it to reopen 11 courtrooms, Presiding Judge David S. Wesley has informed the court's staff and judges.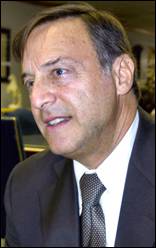 DAVID S. WESLEY
Presiding Judge
In an email obtained by the MetNews on Friday, Wesley explained that a "very small" increase in discretionary state funding—$7 million, added to a total budget of over $700 million—will enable the court to begin rolling back the $160 million in cuts the court has made over the last several years.
While the increase "is not nearly enough to rebuild the Court," he said, the restructuring that the court was forced to undertake on the basis of the prior cuts, Wesley said, "provides us with budget stability that we are using to enhance access to justice." The court, he said, "continue[s] to move forward."
The court, he acknowledged, still faces a logjam of cases caused by the closures of 79 courtrooms in the past five years, adding:
"Nor will [the $7 million funding hike] make a significant dent in the mountains of paper we have throughout the Court. That is why we are pursuing a range of initiatives that are improving access to justice with existing resources: reallocation of staff, reengineering of business processes, and automated solutions to a wide variety of processes. Having already implemented state funding reductions, LASC is spared the fate of a number of California courts that are continuing to make cutbacks this year – we are moving forward, rather than continuing to downsize."
As he has in the past, Wesley called on the governor and Legislature to match the court's effort and recognize "that now is the time for reinvestment in the California trial courts."
The funding increase also means that that there will be no layoffs of court personnel, although Executive Officer/Clerk Sherri R. Carter informed staff members in an email last week that the court will continue to pursue "operational efficiencies," including transfers and reclassifications. Fifty-five employees, she said, will be placed in a "transition process" that will require them to shift to new positions within a year.
Carter emphasized, however, that "every affected employee who wants to remain employed by the Court will have a job."
Copyright 2014, Metropolitan News Company