Wednesday, July 23, 2014
Page 3
Senate Confirms Birotte as U.S. District Court Judge
By a MetNews Staff Writer
The U.S. Senate yesterday confirmed the nomination of U.S. Attorney Andre Birotte Jr. to serve as a district judge of the U.S. District Court for the Central District of California.
Confirmation came by a unanimous vote of all 100 senators.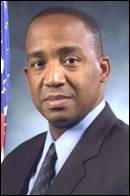 ANDRE BIROTTE JR.
U.S. Attorney
Birotte was nominated for the U.S. District Court by President Obama. Birotte will fill a judgeship which has been vacant since March 13, after District Judge Gary A. Feess assumed senior status. Birotte will maintain chambers in Los Angeles.
Birotte has served as the U.S. attorney for the Central District of California since 2010. He is the first African-American to serve in that post.
Birotte served as an assistant U.S. attorney in the Central District from 1995 to 1999.
Birotte served as the inspector general for the Los Angeles Police Department from 2003 to 2010, where he was responsible for ensuring the compliance of officers and staff with departmental policies and mandates imposed under a federal consent decree. He was selected for the position by the Los Angeles Police Commission after serving as an assistant and then acting inspector general, from 2001 to 2003.
Earlier in his career, Birotte was in private practice as an associate at the Los Angeles law firm of Quinn Emanuel Urquhart Oliver & Hedges, from 1999 to 2001, and served as a deputy public defender for Los Angeles County, from 1991 to 1994.
Birotte was born in Newark, N.J.. He received his undergraduate degree in 1987 from Tufts University and his law degree in 1991 from Pepperdine University School of Law. During law school, he served as law clerk and intern at two law firms, the Office of the U.S. Attorney for the Central District, and the San Diego County Public Defenderís Office.
Birotte served on the John M. Langston Bar Associationís board from 1992 to 2003. He also served as a judge pro tem of the Los Angeles Superior Court; was a member of the Los Angeles County Bar Associationís Judicial Appointments Committee and Criminal Justice Executive Committee; and taught courses in legal writing and advocacy at the University of Southern California Gould School of Law.
Birotteís spokesperson said it was uncertain when he would take the bench, as his commission must still be signed by the president. The attorney general will appoint an interim U.S. attorney, the spokesperson said.
Copyright 2014, Metropolitan News Company