Friday, April 4, 2014
Page 1
Obama Nominates André Birotte to be U.S. District Judge
By a MetNews Staff Writer
President Obama yesterday nominated U.S. Attorney André Birotte Jr. to be a U.S. district judge for the Central District of California.
Birotte has been the U.S. attorney for the district since March 4, 2010. He previously served as the inspector general for the Los Angeles Police Commission from 2003 to 2010 and as an assistant inspector general from 2001 to 2003.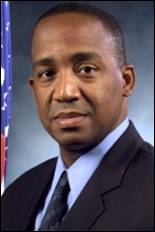 —Courtesy Photo
André Birotte jr.
U.S. Attorney
He was an associate at Quinn Emanuel Urquhart Oliver & Hedges LLP from 1999 to 2001. From 1995 to 1999, Birotte served as an assistant U.S. attorney for the Central District.
He started his legal career as a deputy public defender for Los Angeles County from 1991 to 1995.
He presently serves as co-Chair of the Attorney General's Advisory Committee's Terrorism/National Security Subcommittee, and as a member of the Border and Immigration Law Enforcement Subcommittee, Civil Rights Subcommittee, Cyber/Intellectual Property Subcommittee, Violent and Organized Crime Subcommittee and White Collar/Fraud Subcommittee. He was recently named to the Justice Department's U.S. Attorney Advisory Committee.
He is a graduate of Tufts University and Pepperdine University School of Law. He is also a former director of the Langston Bar Association, and served on the Los Angeles County Bar Association's Judicial Appointments Committee and Criminal Justice Executive Committee.
Sen. Dianne Feinstein issued the following statement after the nomination was announced:
"It was my great honor to recommend André Birotte to serve as a federal district judge in Los Angeles. In 2009 I recommended Birotte to President Obama for the position of U.S. attorney, and I have been very impressed with his performance over the last four years. He has a record of excellence and fairness, and I am confident he will serve the people of the Central District very well as a U.S. district judge."
The president yesterday also nominated Randolph D. Moss, chairman of the Regulatory and Government Affairs Department at Wilmer Cutler Pickering Hale and Dorr LLP, to be a U.S. district judge for the District of Columbia. Moss worked in the Justice Department's Office of Legal Counsel from 1996 to 2001, the last year as assistant attorney general in charge of the office, before returning to Wilmer Cutler, where he had worked from 1989 until joining the government.
He is a graduate of Hamilton College and Yale Law School and clerked for then-Supreme Court Justice John Paul Stevens before joining Wilmer Cutler.
Copyright 2014, Metropolitan News Company