Thursday, June 19, 2014
Page 1
Justice Baxter Says He Will Leave at End of Term
From Staff and Wire Service Reports
California Supreme Court Justice Marvin Baxter said yesterday he will not seek a third 12-year term on the high court and will leave when his current term ends in January.
"I have been privileged to have such an interesting and fulfilling career in the law, serving as a deputy district attorney, in private practice, as Appointments Secretary to Governor George Deukmejian, and as an Associate Justice on the California Court of Appeal and Supreme Court," Baxter said in a statement distributed by the Administrative Office of the Courts.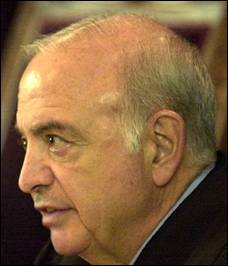 MARVIN BAXTER
Supreme Court Justice
"It is a great honor to have served on the state's high court since 1991. With three Chief Justices, twelve Associate Justices, and excellent staff, I have been able to contribute to its substantial body of opinions and case law. At the local and statewide levels I was gratified to have the opportunity to assist Governor [George] Deukmejian in the appointment of more than 700 judges and numerous executive branch appointees, and to have supported the evolution of our judicial branch of government as a member of the Judicial Council of California and its committees. Jane and I look forward to an active retirement and will focus our time and attention on family and friends, traveling, hobbies, and charitable activities."
Baxter was nominated to the Supreme Court by Deukmejian in 1990 and elected by the voters that fall, after Justice David Eagleson declined to seek a full term. He served as appointments secretary from 1983 to 1988 and on the Fifth District Court of Appeal from 1988 until his elevation to the state high court.
Grew Up on Farm
Baxter grew up on his family's farm in Fowler, a rural community in Fresno County. After graduating from Hastings College of the Law—he was a member of the school's governing board at the time of his nomination to the Supreme Court—he began his legal career in 1967 as a Fresno County deputy district attorney.
After two years as a prosecutor, he joined the Fresno law firm that later became known as Andrews, Andrews, Thaxter, Jones and Baxter, and practiced civil law there for 13 years. He was also active in political and professional affairs, working on Deukmejian's campaigns for attorney general in 1978 and governor in 1982, and serving as president of the Fresno County Bar Association in between.
He is also a former president of the student body, alumni association and trust council of California State University, Fresno, and of the Fresno Young Lawyers Association. He has received the Distinguished Alumnus awards from his undergraduate and law school alma maters, the Mentor Award from the Fresno County Young Lawyers Association, and "Man of the Year" awards from both the Armenian Professional Society and the Armenian National Committee.
In 1996, then-Chief Justice Ronald M. George appointed him to the Judicial Council of California, on which he still serves. When he steps down next year, just a few days short of his 75th birthday, he will have served 18 years as vice-chair of the Judicial Council and 16 years as chair of the Policy Coordination and Liaison Committee.
Conservative Stalwart
Baxter has generally been regarded as a stalwart of the court's conservative wing, voting to uphold laws prohibiting same-sex marriage requiring parental notification or judicial approval for minors to obtain abortions, siding with prosecutors in most death penalty and other criminal cases, and authoring the opinion of the court in last year's ruling allowing cities to ban medical marijuana dispensaries.
In 2002, however, he wrote for a unanimous court that struck down the state's "Son of Sam" law, which authorized the seizure of all monies due a convicted felon from expressive materials that include the story of the crime. Baxter said the law "imposes a content-based financial penalty on protected speech," and "sweeps within its ambit a wide range of protected speech, discourages the discussion of crime in nonexploitative contexts, and does so by means not narrowly focused on recouping profits from the fruits of crime."
In interviews yesterday, the justice said he did not have a ranking of his most influential opinions, and would leave that assessment to others.
It will now be up to Gov. Jerry Brown to nominate Baxter's successor, who must be confirmed by the Commission on Judicial Appointments—comprised of Chief Justice Tani Cantil-Sakauye, Attorney General Kamala B. Harris, and senior Court of Appeal Presiding Justice Joan Dempsey Klein. If that confirmation comes before Sept. 16, the nominee will appear on the general election ballot for an up-or-down vote, and, if the voters agree, will take office Jan. 5.
Copyright 2014, Metropolitan News Company