Wednesday, December 24, 2014
Page 1
Services Pending for Justice Orville Armstrong
By a MetNews Staff Writer
Funeral services are pending for retired Court of Appeal Justice Orville "Jack" Armstrong, who died Monday at age 85.
The Chancery Club, of which Armstrong served as president in 1980-81, reported his death yesterday.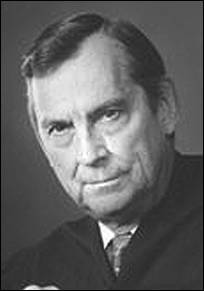 ORVILLE ARMSTRONG
1929-2014
Armstrong retired last year from the appeals court's Div. Five, of which he had been a member since 1993. He had previously served on the Los Angeles Superior Court, and was president of the State Bar in 1987-1988.
He was a native of Austin, Texas, and graduated from the University of Texas in that city. He acquired his nickname at a time when "Jack Armstrong, the All-American Boy" was a very popular radio program.
His law degree is from USC.
According to a legal publication, he was an associated of several law firms between 1957 and 1967, a partner at Armstrong & Lloyd from 1967 to 1975, and a partner at MacDonald, Halsted & Laybourne from 1975 to 1988, when the firm was absorbed by Baker & McKenzie.
A former head of MacDonald Halsted's litigation practice, he was a partner at Baker & McKenzie until then-Gov. George Deukmejian appointed him to the Superior Court in 1991. Deukmejian's successor, Pete Wilson, elevated him to the Court of Appeal two years later.
Armstrong served in the United States Air Force from 1946 to 1949 as a radar technician.
He was a fellow of the American Bar Association and American College of Trial Lawyers, a trustee of the Los Angeles County Bar Association and chair of several of its committees, and a director of the Ninth Judicial Circuit Historical Society. Prior to serving on the Board of Governors of the State Bar, he chaired several of the organization's committees, notably the Disciplinary Com- mittee from 1965 to 1972.
He also taught at the California Judicial College.
In a release issued at the time of his retirement, the court noted that Armstrong authored more than 2,000 appellate opinions, including 1,253 civil law opinions and 969 criminal law opinions.
Among the more significant, the release said, were Luther v. Countrywide Financial Corp. (2011) 195 Cal.App.4th 789, which reversed orders sustaining demurrers on investor claims under the 1933 Securities Act, holding that California had concurrent jurisdiction as to claims under 15 USC §77v(a); People v. Mayer (2003) 108 Cal.App.4th 403, which upheld the convictions of a South Gate political candidate for filing false election declarations and for perjury; and Marshak v. Ballesteros (1999) 72 Cal.App.4th 1514, which affirmed summary judgment against a husband who sued his attorney for legal malpractice where the attorney had advised the husband to settle his marital dissolution matter, the court holding that the husband did not meet his evidentiary burden to prove the case was settled for less than it was worth.
Copyright 2014, Metropolitan News Company