Friday, May 2, 2014
Page 1
Bar Court Review Department Upholds Disbarment Recommendation for Del Norte District Attorney
From Staff and Wire Service Reports
The State Bar Court Review Department has upheld a hearing judge's recommendation that Del Norte County's suspended district attorney be disbarred.
Judge Judith Epstein, writing for the panel, said that Jon Alexander engaged in improper communication with a defendant and suppressed evidence in connection with a July 2011 conversation. The panel also agreed that Alexander initially denied having the conversation when asked by another prosecutor.
Alexander's case now goes to the California Supreme Court for a final decision. His attorney said the district attorney disagrees with the decision and that even if Alexander is guilty, the punishment is too severe.
"We hope and trust that the Supreme Court will see this situation as we see it, at worst, an unprecedented and involuntary four-minute encounter and not a professional or moral blemish; and that this decision will be reversed," Alexander's attorney Farschad Farzan wrote in an email.
Alexander had previously testified that he was targeted for prosecution by state bar officials who didn't believe his story of redemption and sobriety after losing his Orange County criminal defense practice in the 1990s because of a methamphetamine addiction. He had been disciplined three times previously by the State Bar and briefly suspended from practicing law for improperly keeping clients' fees in the 1990s.
Alexander was elected district attorney in 2010 after a contentious election won by 93 votes. Running under the slogan, "Death to Meth," his story of recovery and second chances appealed to voters in the small, rural area known for its tall trees, salmon fishing and methamphetamine problems.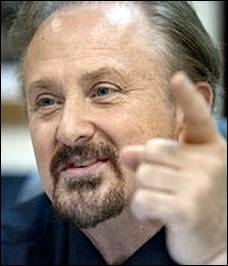 JON ALEXANDER
Suspended District Attorney
The district attorney's office is located in Crescent City, the county seat, where Alexander was a criminal defense lawyer prior to winning election as the county's top prosecutor.
But less than two years after taking office, the State Bar's Office of Chief Trial Counsel charged him with various offenses, including making and taking questionable loans from lawyers and others connected to the criminal justice system in Del Norte County, one of the state's least populated regions with 29,000 residents — including 3,000 inmates of California's most-secure maximum security prison, Pelican Bay State Prison.
The financial charges were later dropped, but the hearing judge did recommend his disbarment for engaging in a conversation with a defendant he was prosecuting without her lawyer present. Alexander than denied having the conservation when asked by a subordinate, and he failed to disclose the discussion with the defendant's lawyers, the Review Department found.
Alexander claimed the defendant appeared at his office unannounced, wearing "an undisclosed wire," and spontaneously started speaking about the case.
Epstein wrote:
"The [hearing] judge found that Alexander's significant mitigation evidence did not clearly outweigh the seriousness of his misconduct and the strong evidence in aggravation. Underscoring the judge's disbarment recommendation was her conclusion that Alexander's conduct had compromised 'a compelling societal interest in preserving the integrity of the office of the district attorney.' Indeed, the high standard of conduct expected of prosecutors, who act as the gatekeepers to the fair administration of justice, was lacking in this case. Accordingly, in light of Alexander's extensive prior discipline record, we conclude that a disbarment recommendation is necessary to protect the public, the courts, and the legal profession."
She also rejected Alexander's claim of selective prosecution, saying the district attorney presented no evidence that the OCTC is more likely to prosecute addicts than other lawyers. Nor did his claim that the judge exhibited bias by denying him a continuance of the disciplinary hearing to try an important case in Del Norte County hold water, Epstein said.
Alexander's past record and failure to take responsibility supported the disbarment recommendation, she said.
The Del Norte County Board of Supervisors suspended Alexander without pay in April of last year after he was placed on involuntary inactive status pending the outcome of the case.
State Bar records show that Alexander received a private reproval with public disclosure in 1996, was suspended for six months in 2003, was placed on probation in 2004, and was placed on inactive status in 2006. He was on probation when the disciplinary charges were brought.
He was also suspended for nonpayment of bar dues in 1989, 2002, and 2003.
The probation was based on a stipulation he entered into just months before being elected district attorney, following participation in the Alternative Discipline Program.
He admitted that he had failed to advise a criminal client that he was under suspension for nonpayment of dues, then failed to appear at two hearings, and that the client had to retain new counsel to complete the case; that he improperly represented a client while on involuntary inactive status; that he improperly attempted to influence a sentencing while under suspension from his post as a deputy district attorney.
The three incidents occurred in 2002, 2003, and 2005. The State Bar Court found in mitigation that Alexander was dealing with his drug addiction, which he attributed to the pressure of maintaining a law practice while caring for his now-deceased mother, who had Alzheimer's disease, and that he had made many contributions to the community.
Copyright 2014, Metropolitan News Company