Monday, August 12, 2013
Page 1
Court of Appeal Rules:
Lawyer Who Used 'Straw Plaintiffs' Was Vexatious Litigant
Acting Justice Sanjay Kumar Says Flood of Meritless Actions Were Brought to Extort Payments
By a MetNews Staff Writer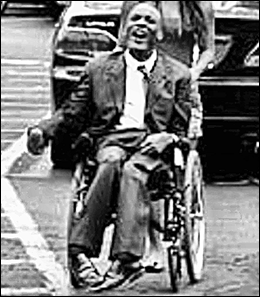 THEODORE A. PINNOCK
Disbarred Attorney
The Court of Appeal for this district on Friday upheld a 2011 order declaring an attorney to be a vexatious litigant based on lawsuits he had filed not only in his own name, but those of "straw litigants."
The attorney was Theo­dore A. Pinnock, who last year was disbarred, pursuant to stipulation.
Los Angeles Superior Court Judge Cesar C. Sar­miento declared Pinnock to be a vexatious litigant in a case he brought in the name of Barbara Humphrey against defendant Gingerbread Court L.P., a collection of shops on an ocean front walkway in Venice. The complaint alleged violations of the federal Americans  With Disabilities Act and the state Unruh Civil Rights Act and the Disabled Persons Act.
Los Angeles Superior Court Judge Sanjay Kumar, on assignment to Div. Five of the appeals court, wrote the opinion. He said:
"Before a court may enter a prefiling order and require the posting of security, it must determine that the plaintiff is a vexatious litigant…, and that there is no reasonable probability the plaintiff will prevail in the litigation against the moving defendant….
"Here, there is abundant evidence to support the trial court's finding that Pinnock commenced, instituted or maintained this litigation on his own behalf and not on behalf of Humphrey, who was a mere straw plaintiff employed in an attempt to avoid the application of the vexatious litigant statute. The record contains evidence in 2009, Pinnock filed in the name of straw plaintiff Humphrey more than 50 boilerplate lawsuits in southern California for the purpose of coercing business owners into paying money to avoid a groundless lawsuit; a scheme he had used in over 2,000 prior cases. The record includes evidence Pinnock had not prevailed on the merits in any of these 2,000 lawsuits."
Due Process Allegation
Pinnock argued that Sarmiento deprived him of due process by failing to conduct a hearing on the motion to declare him a vexatious litigant.
Hearings were, in fact, held, though by a previous judge in the case, Kumar responded.
The defendant brought a motion in 2009 to declare both Pinnock and Humphrey a vexatious litigant. Two hearings were held by then-Superior Court Judge Terry Friedman (now a private judge) who issued an order against Humphrey, and not Pinnock.
The Court of Appeal said that Friedman got it backward. Then-Court of Appeal Judge Orville Armstrong (since retired) said in a 2011 opinion:
"The trial court recognized that Humphrey did not meet the definition of a vexatious litigant under Code of Civil Procedure section 391.2 The court nevertheless declared Humphrey a vexatious litigant, ordered her to post $10,000 security within 20 days, and issued a pre-filing order prohibiting her from filing any new litigation without first obtaining leave of the court's presiding judge. Humphrey failed to furnish the $10,000 security, and the court dismissed her lawsuit."
Dismissal Reversed
Reversing the order of dismissal and removing from Humphrey the onus of a "vexatious litigant" designation, Armstrong wrote:
"Not only does Humphrey not fit the statutory definition of a vexatious litigant, but she is not among the class of persons whose behavior the Legislature sought to address with the enactment of section 391. If, as defendant asserts, Humphrey is merely a straw plaintiff whom Pinnock is manipulating for his own ends, she is no less a victim of Pinnock's allegedly spurious tactics than is defendant….If, as defendant argues, Pinnock retains disabled persons to act as straw plaintiffs in these lawsuits, having entered into no genuine attorney client relationship with the named plaintiffs and with no ability on the part of the putative plaintiffs to control the litigation, then Pinnock is 'an attorney at law acting in propria persona' (§ 391, subd. (d)), and is, as such, himself subject to the provisions of section 391 et seq."
That opinion, like Kumar's, was not certified for publication.
In his Sept. 7, 2000, order, Sarmiento said that "the June 23, 2011 decision of the Court of Appeal is now the law of this case" and based on that and factual findings made by Friedman, he declared Pinnock a vexatious litigant.
Hearing Demanded
Following remand, Pinnock demanded a hearing on the "newly fabricated theory" that Humphrey was a stray plaintiff. Kumar recited that there was nothing new about the theory; it was the basis of the 2009 motion.
He declared:
"Pinnock had every opportunity to challenge this straw plaintiff theory in its reply to defendant's motion which was heard before Judge Friedman. Pinnock submitted no evidence in support of his argument that he was acting solely as Humphrey's attorney, and that Humphrey, as his client, was pursuing this litigation on her own behalf and not as a straw plaintiff. Moreover, Pinnock appeared at the original and continued hearings on the matter…[in 2009], and argued his position before the court. Thus, defendant fully complied with the notice and hearing provisions of section 391.1 and Pinnock was afforded due process."
San Diego attorney David C. Wakefield presented arguments for reversal. David Blake Chatfield of the Westlake Law Group in Ventura County's Westlake Village represented Gingerbread Court.
Misappropriation of Funds
Pinnock's disbarment did not stem from the suits he brought using Humphrey's name. According to the findings, he brought 76 civil rights actions in the name of Noni Gotti—many without her knowledge; total settlements were for $143,425; he paid over to her only $8,500.
"By misappropriating a substantial amount of Gotti's settlement funds from the 76 cases, respondent committed an act involving moral turpitude, dishonesty and corruption…," the State Bar Court's Hearing Department found.
It noted, in mitigation, that Pinnock has cerebral palsy and other ailments.
Earlier last year, a 90-day actual suspension was imposed on Pinnock for misappropriating $4,000 in trust money and trying to mislead a judge in San Diego.
Pinnock now lives in the Philippines.
Copyright 2013, Metropolitan News Company