Tuesday, September 24, 2013
Page 1
Longest-Serving Death Row Inmate Stankewitz's Third Trial Pushed Back, Perhaps for Two Years
From Staff and Wire Service Reports
The third penalty trial for California's longest-serving death row inmate has been pushed back, perhaps to 2015.
The Fresno Bee reported Friday that Judge Arlan Harrell agreed to delay Douglas Ray Stankewitz's trial after Fresno attorney Richard Beshwate, who took over the case in January, said he could not be ready until spring 2015. Harrell did not set a date, but said he would hold a trial setting conference in late January.
The retrial, ordered by a federal district judge on ineffective-assistance grounds, was supposed to begin next spring, but Beshwate said he could not possibly be ready by then. "There are hundreds of thousands of documents to read," the newspaper quoted him as saying.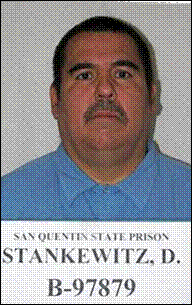 DOUGLAS RAY STANKEWITZ
Convicted Murderer
Harrell said he intended to order Stankewitz returned to state prison to await trial. But the judge allowed him to remain in the Fresno County Jail—which his attorney said would make it easier to prepare a defense—for the time being.
Stankewitz, who came within one week of being executed in 1991, was convicted twice of the 1978 killing of Theresa Graybeal, 22, of Modesto.
According to testimony, Stankewitz was 19 in February 1978 when he and four others from Fresno — Billy Brown, 14, Marlin Lewis, 22, Teena Topping, 19, and Christina Menchaca, 25 — got stranded without a working car. Testifying under grant of immunity, Brown said Stankewitz and friends kidnapped Graybeal and stole her car from a Manteca parking lot.
'Did I Drop Her?'
After forcing Graybeal to drive them to the Fresno area, he shot her, turned to his companions and said, "Did I drop her, or did I drop her?," Brown testified.
Brown and Lewis—who pled guilty to second-degree murder, are now dead, the Bee reported. Menchaca and Topping pled guilty to being accessories.
Brown authored a 1993 declaration in which he recanted his testimony, denied he saw the shooting, and claimed it was Lewis who uttered the "Did I drop her" quote. Lewis allegedly admitted the shooting to a Native American activist assisting Stankiewitz's defense in 2000.
Stankewitz's first conviction and death sentence were set aside by the state Supreme Court because he had not been granted a mental competency hearing. When the case was sent back to the Superior Court, the judge ruled that the public defender, who had represented him at the first trial, had a conflict of interest and appointed former Fresno Municipal Court Judge Hugh Goodwin to represent him.
The second conviction and death sentence were upheld by the state high court in July 1990.
In a habeas corpus petition, his counsel argued that a competent defense would have included presentation of evidence that Stankewitz was placed in a foster home at age six after suffering beatings and electric shocks administered by his mother, who lost her parental rights.
Testimony also should have been presented regarding the defendant's history of mental illness, possibly related to fetal alcohol syndrome and childhood abuse, and substance abuse, as well as the fact that he had binged on alcohol, heroin, and methamphetamine, and had not slept, for at least 48 hours before the murder, the attorneys argued.
Attorney's Explanation
The government's response included a declaration from Goodwin in which he said that Stankewitz was opposed to any penalty phase defense at all, and in particular to any defense that involved the use of his family as witnesses, or the use of expert witnesses. The government also argued that a better defense would not have changed the outcome in light of the overwhelming evidence of aggravating circumstances, including nine other episodes of criminal violence in which the defendant had participated.
U.S. District Judge Anthony Ishii of the Eastern District of California initially agreed, and denied Stankewitz's habeas corpus petition without hearing testimony. But the Ninth Circuit called that an abuse of discretion, saying the petitioner had established a prima facie case of ineffective assistance.
On remand, the parties stipulated the judge could reconsider his original ruling without hearing live testimony. After reviewing thousands of pages of documents, he concluded that no reasonable defense attorney would have failed to present the mitigating evidence, and that jurors might not have imposed the death penalty if they had heard it.
A divided Ninth Circuit panel agreed last October, with Judges Raymond Fisher and Jay Bybee in the majority. Judge Diarmuid F. O'Scannlain dissented, arguing that the district judge "failed to evaluate the potentially aggravating effect of much of Stankewitz's new evidence."
Copyright 2013, Metropolitan News Company