Thursday, November 7, 2013
Page 3
Southwestern Marks Arrival of New Dean Prager
By a MetNews Staff Writer
Southwestern Law School has officially welcomed its new dean in an inaugural ceremony which also marked the opening of its new on-campus housing.
Dean and Chief Executive Officer Susan Prager was introduced at Tuesday's event by Los Angeles Superior Court Presiding Judge David Wesley, a Southwestern alumnus. Wesley said that Prager's new role carries on a tradition by the law school of advancing women in the legal community.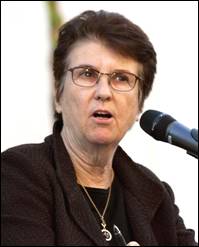 SUSAN WESTERBERG PRAGER
Southwestern Law School Dean
He noted that Southwestern's first graduate was Betty Trier Berry, who became the first female attorney in the United States. to work for a public defender's office after obtaining her law degree in 1915.
Prager takes over from former Vice Dean Austen Parrish, who had been serving as interim dean since July 2012 when Bryan Garth vacated the position after seven years.
This marks Prager's second role as a law school dean, having previously served as dean of the UCLA School of Law from 1982 to 1998. She was the first female law school dean in the UC system.
Thomas Hoberman, chair of Southwestern's Board of Trustees, noted that Prager continues her pioneering role in her new position, becoming the first female dean out of the 11 that have served over the course of the law school's 102-year history.
Between her law school dean positions, Prager served as provost of Dartmouth College as well as the executive director and chief executive officer of the Association of American Law Schools.
The dean told the MetNews that her first priority was to "make sure the quality of the program is good." She said that law schools throughout the country face a "challenging period" due to declining applicants that she attributes to "broader economic changes."
Prager said it was "unfortunate that they are being discouraged from law school when it might be the avenue they need to fulfill their goals." A legal education provides students with a broad background for various forms of employment, she said.
Despite the current challenges, Prager said Southwestern has "done well" in attracting student enrollment and said that "the new housing will help."
The "new housing" she referred to is a new $22.7-million facility which marks the law school's first on-campus housing. It holds 133 units that all come fully furnished with a kitchen, washer/dryer unit and 42" flat-screen high-definition television.
Parrish said the new residences were part of the school's "continuing commitment to the revitalization of this great Los Angeles neighborhood."
In addition to the new housing it offers students, Prager said she remains particularly proud of Southwestern for its "record of allowing people access to law school who otherwise wouldn't be able to [attend]." She pointed to the school's programs that allow students to attend evening classes or part-time during the day, as well as its "SCALE" program that allows students to graduate in only two years through an intensive program of classes and "hands-on" skills.
The new dean noted that the institution she now presides over was the first in the nation to offer a two-year legal program back in the 1970s, and now many other law schools are looking to follow its lead.
Copyright 2013, Metropolitan News Company