Monday, March 4, 2013
Page 11
SNIPPETS (Column)
Senior Lawyers to Present Discussion of Los Angeles Race Riots
The Senior Lawyers Section of the Los Angeles County Bar Association on March 20 will stage a program entitled, "Frozen in Time: Riots in Los Angeles—Lessons Learned and Progress Made."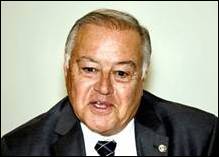 DE LOS REYES
Anthony De Los Reyes of Pocrass & De Los Reyes LLP is putting together the panel discussion and will moderate it. De Los Reyes is a member of the section's Executive Committee and a former member of the Los Angeles Police Commission.
Panelists will be Los Angeles Police Chief Charlie Beck, former Los Angeles Times city editor Bill Boyarsky, Ninth U.S. Circuit United States Court of Appeals Judge Raymond C. Fisher, and civil rights activist Constance L. Rice of the law firm of English Munger & Rice.
This information on the program appears on the LACBA website:
The history of Los Angeles includes a number of racial conflicts that have erupted into violence.
On Wednesday, August 11, 1965, two California Highway Patrol motorcycle officers saw a car make a wide turn. An African American motorist pulled up alongside the patrolmen and reported that the driver of the car was drunk. This incident set in motion a series of events that escalated into what became known as the Watts Riots.
Six days later, 34 people, including 25 African Americans, had died, more than 1,000 people were injured, 600 buildings were damaged or destroyed, and there was an estimated $400 million in property damage. Rioters looted stores, set fires, and beat innocent bystanders. The riots were not quelled until the National Guard was sent out.
On March 3, 1991, a videotape was made of a young African American man being beaten by LAPD officers. When the videotape hit the news, the city was poised for another crisis. The four LAPD officers were acquitted by a Simi Valley jury in April 1992 and the City of Los Angeles again erupted into riots and flames. In six days, 53 people were killed, more than 2,000 were injured, and property damage exceeded $2 billion.
It is now been more than twenty years since the 1992 riots and almost fifty years since the Watts riots in 1965. Our distinguished panel will discuss the impact of these events on the relations between the African American Community and the Los Angeles Police Department.
The event will take place at the LACBA offices on the 27th floor of the building at Seventh and Bixel streets in Los Angeles.
Registration, a meal and the reception are slated for 5:15 p.m., with the program scheduled to start at 5:45 p.m. There will be 3.25 hours of MCLE credit.
An array of prices range from $30 for law students to $115 for non-members of LACBA.
There will also be a live webcast, with prices starting at $70, with the highest amount being $120.
Information is available by telephoning LACBA's Member Services Department at (213) 896-6560.
•The Mommy Esquire Committee of the Orange County Bar Association has planned a "Picnic in the Park" for Sunday, March 10.
"This is a great opportunity for you to get to know your OCBA colleagues in a casual atmosphere while the kids can enjoy a fun day at the park," a meeting announcement says.
The get-together will take place at Cypress Community Park, 255 Visions, in Irvine from 10 a.m. to noon. A corporate sponsor will offer snacks and drinks.
Admission is free, but it's restricted to OCBA members and families.
Online registration (with a March 7 deadline) is available at www.ocbar.org.
•The Women Lawyers Association of Los Angeles Membership Committee on March 21 will present "A Night at the Magic Castle."
Registration will start at 5 p.m. and an "Hors d'oeuvres Reception" will take place from 5:30-7:30 p.m.
The cost is $85 for members, $135 for non-members. However, there is a "two for the price of one" deal; the meeting announcement says:
"Each registered guest is allowed to bring one guest at the same price that they paid. Price includes hors d'oeuvres and access to the castle and magic shows until midnight."
The announcement advises:
"There is a strictly enforced dress code: Business attire with jacket and tie for men; evening wear for ladies (cocktail dress, elegant skirt and blouse, or evening pant suit ensemble with matching jacket). Please bring a photo ID for admittance.
"Reservations are limited, so early registration is recommended! Your reservation with full payment must be received by 4:00 p.m. on Thursday. March 14, 2013. No registrations will be accepted after March 14. 2013! You must cancel before March 14, 2013 if you would like a refund."
Online registration is available at www.wlala.org. Information can be obtained by telephoning (213) 892-8982 or emailing info@wlala.org
The Magic Castle is located at 7001 Franklin Avenue in Hollywood.
Copyright 2013, Metropolitan News Company