Tuesday, December 17, 2013
Page 1
Former Alameda Judge Paul Seeman Censured and Barred From Receiving Judicial Assignments
By a MetNews Staff Writer
A former Alameda Superior Court judge, serving five years' probation for theft and perjury, has been severely censured and barred from receiving court appointments, the Commission on Judicial Performance disclosed yesterday.
The commission said it acted on Dec. 5 pursuant to a stipulation between former Judge Paul Seeman and the commission. Seeman resigned from the bench in March and was sentenced in August after entering a negotiated plea of no contest.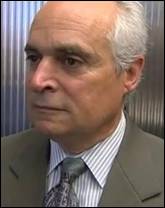 —AP
PAUL SEEMAN
Former Superior Court Judge
Seeman agreed to accept the maximum penalty the commission can impose on a former judge. He had previously resigned and agreed not to seek or hold any judicial office or accept any form of appointment or referral from any court, in exchange for the CJP deferring its investigation until after the criminal proceedings were completed.
Freeman was originally accused of stealing at least $1.6 million from a 97-year-old neighbor in the Berkeley Hills over the course of more than 10 years, and was charged with multiple counts of perjury, forgery, elder theft and grand theft.
But prosecutors ultimately concluded that most of the charges stemmed from Seeman assisting with a probate sale in which there was no malfeasance, the San Francisco Chronicle reported. The judge then agreed not to contest charges that he receive an improper $250,000 loan, which he repaid, and that he stole less than $6,000.
In his stipulation with the CJP, Seeman admitted that prior to his judicial appointment, he had breached his fiduciary duties to neighbors Paul and Anne Nutting, both now deceased, by engaging in conflicts of interest, commingling property, failing to properly record transactions entered into on their behalf, and drafting an instrument making a donative transfer to himself without independent legal review.
He also acknowledged that he failed to comply with State Bar rules governing business transactions between attorneys and clients.
Seeman further admitted that while a judge, he continued to steal from Anne Nutting, violated the annual limit on gifts, failed to maintain standards of integrity required of judges, accepted an improper loan, and violated the rule prohibiting a judge from serving as an executor or in a similar capacity on behalf of a non-relative.
He also admitting lying to the Department of Motor Vehicles about the value of a vehicle and using public employees to access DMV records for an improper purpose.
Seeman was placed on interim State Bar suspension in October and agreed to be disbarred as part of his stipulation with the CJP.
Seeman earned his law degree from UC Berkeley and his bachelor's degree from UC Santa Cruz. He was admitted to the State Bar in 1980 and was a deputy county counsel early in his career. He later became a sole practitioner, and was named a part-time Superior Court referee in 1991 and a full-time commissioner in 2004.
Then-Gov. Arnold Schwarzenegger appointed Seeman, a Democrat, as a judge in 2009.
Copyright 2013, Metropolitan News Company