Wednesday, October 9, 2013
Page 1
Arizona Execution Set Today After Ninth Circuit Panel Rejects Due Process Challenge to Clemency Hearing
From Staff and Wire Service Reports
The Ninth U.S. Circuit Court of Appeals has turned down a last-minute challenge to Arizona's clemency process by a man scheduled for execution today.
The court late Monday turned down Edward Harold Schad Jr.'s argument that the Clemency Board does not afford condemned inmates due process because the governor will not reappoint members who recommend clemency.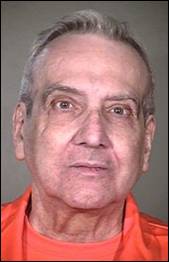 –AP
This undated photo provided by the Arizona Department of Corrections shows inmate Edward Schad.
Senior District Judge Roslyn O. Silver had denied Schad's bid to enjoin last Wednesday's clemency hearing and to again stay his execution. She acknowledged that some members of the board were not reappointed, but cited testimony from current and former board members that the governor has never interfered in their deliberations, and concluded that Schad's lawyers failed to meet the heavy burden imposed in due process challenges to state clemency processes.
The Ninth Circuit panel—Senior Judge Mary Schroeder and Judges Stephen Reinhardt and Susan Graber—said they were bound by Silver's findings that the witnesses were credible, because they were not clearly erroneous.
The judges also noted that under Ohio Adult Parole Auth. v. Woodward, 523 U.S. 272 (1998), a due process challenge to a clemency denial must be based on extreme circumstances. It has been suggested that the required showing might be made if a decision was made by tossing a coin, if there had been bribery or some other form of corruption, but the Supreme Court has never sustained such a challenge, the judges noted.
Yesterday's ruling in Schad v. Brewer, 13-16978, follows last Friday's ruling by the same panel in Schad v. Ryan, 13-16895, affirming the district judge's rejection of a habeas corpus petition based on ineffective assistance of counsel. The panel held that the claim, based on an alleged failure to develop mitigating evidence regarding mental illness, is essentially the same as one that was rejected earlier and does not fall within the scope of a recent Supreme Court ruling allowing new claims based on ineffective assistance of post-conviction counsel.
Barring last-minute action from the U.S. Supreme Court, Schad faces execution nearly 35 years after he was charged with the murder of a Bisbee man.
Lawyers for the oldest inmate on the state's death row have all but exhausted their appeals, with just two final efforts at the nation's highest court still pending.
Schad told the Clemency Board at a hearing last week that he has accepted his fate.
"I'm 71. I don't have many years left, but I would like to keep what I've got and maybe get a few more, experience some of the green grass outside maybe," he said while asking the board to commute his sentence to life in prison. "If we have to go down that road on Oct. 9....I'll get my last rites. I'll go through that. I mean, I have no fear."
The board declined to recommend commutation to Gov. Jan Brewer.
Schad was on parole for a killing in Utah that involved the 1968 strangulation death of a male sex partner when he was accused of killing Lorimer "Leroy" Grove, 74. Grove's body was found south of Prescott on Aug. 9, 1978, with a rope knotted around his neck.
Schad was convicted in 1979 and sentenced to death, then retried and convicted a second time in 1985 after the previous conviction was thrown out. The conviction was upheld by the state Supreme Court in 1989 but since has been tied up in a series of federal proceedings.
Schad, who was raised in the Syracuse, N.Y.-area, is the son of a World War II bomber gunner who was shot down and spent more than three years in a German prison camp. When he returned, the senior Schad suffered from alcoholism and mental illness and regularly abused his wife and his oldest son, according to a psychologist's report filed in court.
The report concluded that the younger Schad, too, suffered from mental illness.
A top Yavapai County prosecutor told the clemency board that despite Schad's denial, he was twice convicted by juries that rejected his assertion of innocence.
"He doesn't take any responsibility for what he did," chief deputy Dennis McGrane told the board. "Accidents two times, died of strangulation? I don't think so."
Copyright 2013, Metropolitan News Company