Tuesday, November 26, 2013
Page 1
C.A. Justice Suzukawa to Retire at End of February
By KENNETH OFGANG, Staff Writer
Court of Appeal Justice Steven C. Suzukawa said yesterday he intends to retire from this district's Div. Four in February, just after his 60th birthday.
"It seemed to be a good time to go," he told the MetNews. "I'd like to try some different things."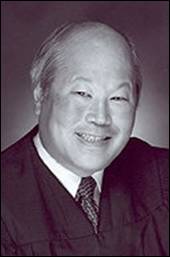 STEVEN C. SUZUKAWA
Court of Appeal Justice
A judge since 1989, and a prosecutor before that, Suzukawa said travel was at the top of his agenda. "There are so many places on my bucket list," he said, and retirement will allow him to see "a bunch of different places…while I'm still ambulatory."
 I said he may also do some volunteer work, and write some fiction—likely "the terrible American novel," he quipped—but would "probably not" do private judging, sit on assignment, or practice law, he said.
"I will miss a lot of things, the people I work with, and dealing with some of the different issues," he said, but had long planned to retire once he was eligible, he commented. He said he and his wife enjoy cooking and entertaining, and that retirement would give him an opportunity to do more of that.
The jurist has sat on the court since 2006, when then-Gov. Arnold Schwarzenegger elevated him from the Los Angeles Superior Court, to which he was named by then-Gov. Pete Wilson in 1992. He was previously a Compton Municipal Court judge from 1989 to 1992.
He also sat as a Court of Appeal justice by assignment prior to being elevated.
He was born in Tokyo, but has lived in the United States since he was two years old. He grew up primarily in Stockton.
Suzukawa was admitted to the State Bar in 1979. He was briefly associated with the Law Offices of Lawrence Trygstad, representing members of the United Teachers of Los Angeles, before becoming a Los Angeles County deputy district attorney. He worked at the Compton courthouse prior to his appointment to the municipal court bench by then-Gov. George Deukmejian.
His experience as a prosecutor was mostly in the consumer protection and career criminal divisions.
His undergraduate and law degrees are from UCLA. While in law school, he worked for the California Teachers Association as a law clerk.
In other news, Los Angeles Superior Court Judge John Meigs, whose retirement plans were announced by the court last week, said his last day on the bench would be Jan. 17. A retirement dinner is schedule that night.
His official retirement date, he said, would be March 7.
Meigs said he intends to spend more time with his three young granddaughters. The 66-year-old jurist, who has spent 25 years as a commissioner and as a municipal and superior court judge, said his wife, who retired eight years ago, "has been having all the fun."
He also is a recently elected trustee of Loyola Marymount University, and said he intends to continue serving on various boards and committees at his alma mater, Loyola Law School. He also expects to do some traveling, he said.
Meigs, who has sat in Inglewood his entire judicial career, and was a deputy public defender there before that, has served as the site judge since court unification and was the municipal court presiding judge before that. He said he appreciates the service the court has received from assigned judges, and would accept a request to serve by assignment for that reason, but that he has no plans to seek out the work.
"I've worked for most of my life," he said. "I started work when I was nine, and I'm ready for my next step."
Copyright 2013, Metropolitan News Company