Monday, March 4, 2013
Page 1
Judge John H. Reid to Retire From Superior Court
By a MetNews Staff Writer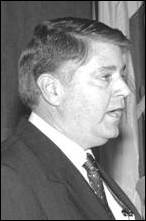 JOHN H. REID
Los Angeles Superior Court Judge
Los Angeles Superior Court Judge John H. Reid said yesterday he will retire from the court May 31.
Reid, who celebrated both his 65th birthday and the 27th anniversary of his appointment to the bench last week, said he will use up his accumulated leave in April and the first part of May, and then return to the court to tie up loose ends before he steps down.
He may return on assignment in the future if the opportunity presents itself, he said, but for now, "it's time to take a breather."
Reid explained that when he filed to run for a new six-year term last year—he was unopposed—he anticipated "stretching out" his tenure on the bench. But with "draconian budget cuts" changing the way the court does business, things are "just not going to be the same, and it's not good," he said.
"I have the luxury of saying this is an appropriate time" to retire, he added.
Reid said he had "a great run" on the court, but after "27 years of people constantly arguing in front of you," a period of rest is probably in order.
"I won't say I've enjoyed every day, but I can say I enjoyed almost every day," he reflected. "There have been a few in there that I could have done without."
Reid, a Los Angeles native, is a graduate of USC and Southwestern Law School. He was admitted to the State Bar in 1972 and joined the District Attorney's Office the following January.
He worked his way through the ranks, becoming deputy-in-charge of the Beverly Hills office, a post he held when then-Gov. George Deukmejian appointed him to the Los Angeles Municipal Court in 1986. He also served on the board of the Association of Deputy District Attorneys from 1977 to 1986.
Deukmejian elevated him to the Superior Court in 1987. He served as supervising judge of the criminal courts in the late 1990s and early 2000s, then transferred to Santa Monica, where he served as West District assistant supervising judge for a year.
He also represented the West District on the Superior Court Executive Committee.
Reid joins at least eight other judges who have retired, or announced plans to retire, since the beginning of the year.
Copyright 2013, Metropolitan News Company