Monday, June 24, 2013
Page 1
Obama Names Ann Ravel to Federal Elections Commission
By a MetNews Staff Writer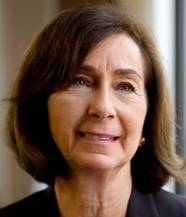 ANN RAVEL
FEC Nominee
President Obama said Friday he intends to nominate Ann Ravel, chair of the Fair Political Practices Commission and a former chair of the State Bar Commission on Judicial Nominees Evaluation, to the Federal Elec­tion Commission.
The FEC is a six-member body, divided equally between Democrats and Republicans, that enforces the Federal Election Campaigns Act. One seat is currently vacant, and five members are holding over after their terms have expired.
Ravel, 63, has headed the FPPC, which enforces the state's campaign finance laws, since 2011. She served from 2009 to 2011 as deputy assistant U.S. attorney general, overseeing tort and consumer litigation in the Civil Division of the Department of Justice.
Before joining the DOJ, she spent 33 years in the Santa Clara County Counsel's Office, the last 11 as county counsel.
She was a member of the Judicial Council of California from 2002 to 2005, and served one full term plus two short appointed stints on the Board of Governors, in addition to her service on the JNE commission.
Ravel was named by the State Bar of California as the Public Attorney of the Year in 2007 for her contributions to public service. She is a graduate of UC Berkeley and Hastings College of the Law.
Ravel drew state and national headlines last year as the commission waged a legal battle to identify the source of an $11 million donation from a secretive Arizona group to a committee that opposed Gov. Jerry Brown's tax measure and supported a failed effort to prohibit union dues from being spent on political campaigns without the approval of individual members.
The president Friday also said he intended to nominate Lee E. Goodman, a partner in the Washington, D.C. office of LeClairRyan, to the FEC. Goodman was an aide to Virginia's then-governor, Republican Jim Gilmore, from 1999 to 2002, and also worked in the Virginia attorney general's office and at the D.C. firm now known as Wiley Rein LLP before joining LeClairRyan in 2005. He argued unsuccessfully before a federal appeals court that the statute banning direct corporate contributions to candidates is unconstitutional, the Huffington Post reported Friday.
Fred Wertheimer, president of Democracy 21, which favors aggressive enforcement of campaign finance laws, called Ravel "an outstanding leader in the area of campaign finance oversight and enforcement," in a statement. He went on to say that he was not familiar with Goodman's record, "but we hope he will bring a stronger commitment to the effective administration and enforcement of the campaign finance laws than his predecessor," a reference to Republican Commissioner Donald McGahn II.
Copyright 2013, Metropolitan News Company