Wednesday, March 13, 2013
Page 1
Rally to 'Save Our Courts' Scheduled for Tomorrow
By a MetNews Staff Writer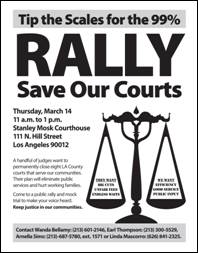 A flyer announcing tomorrow's rally, distributed to court workers and posted online.
About 1,000 court employees and others will rally in front of the Stanley Mosk Courthouse tomorrow to protest the court's plan to close eight courthouses, a spokesperson for one of the groups staging the event said yesterday.
The Save Our Courts Coalition—consisting of SEIU Local 721, the ACLU of Southern California, People for Community Improvement, AFSCME District Council 36, the Pacific Media Workers Guild, Jewish Labor Committee, Clergy and Laity United for Economic Justice and others—will stage a rally and mock trial from 11 a.m. to 1 p.m., Ian Thompson told the MetNews.
Thompson works for Local 721, which represents court reporters and court service workers at the Los Angeles Superior Court and other courts.
While the groups recognize that the court has budget problems that can only be rectified by the governor and Legislature, Thompson explained, it will protest the lack of employee and public input into the decision to close eight courthouses.
"There were no public hearings to decide whether the courts should stay open or not," he said, so organizers of tomorrow's mock trial will "ask everyone what they think" before the rally concludes with a march "around the whole block" past Grand Park and the Hall of Administration.
A flyer distributed to court employees and online said the court closure plan would "eliminate public services and hurt working families." It urged recipients to come to tomorrow's rally and "make your voice heard."
"Keep justice in our communities," the flyer urged.
Court officials announced last November that in order to close an $85 million budget shortfall, it would have to close 10 courthouses. While employees have been told that two of those facilities—Catalina and Beverly Hills—will be spared, the others—Pomona North, Whittier, Huntington Park, San Pedro, Beacon Street, Malibu, West Los Angeles, and the Kenyon Juvenile Justice Center—remain on the chopping block.
The coalition believes that a public hearing should be held in each of those eight courthouses, Thompson said.
Copyright 2013, Metropolitan News Company