Friday, November 15, 2013
Page 1
C.A. Vacates Bond Forfeiture in Randy Quaid Case
By JUSTIN LEVINE, Staff Writer
The surety company that posted a $500,000 bond for Randy Quaid on felony vandalism charges— before the actor skipped out on his arraignment and fled to Canada—is entitled to have the forfeiture vacated, the Court of Appeal for this district ruled yesterday.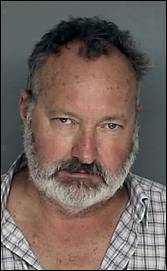 Actor Randy Quaid is shown in the above booking photo.
Div. Six held, in an unpublished opinion by Justice Steven Perren, that the trial judge's forfeiture order violated Penal Code § 1305, which requires a court to declare such forfeitures in open court at a hearing where a defendant is lawfully required to be present.
According to news accounts, Quaid and his wife, Eveginia "Evi" Quaid, were arrested on vandalism charges in September 2010 after they were found living in a Montecito home which they owned previously, without the new owner's permission. Authorities accused them of causing more than $5,000 in damages to the home.
A trial judge issued a pair of $50,000 bench warrants against the couple when they failed to appear at their initial arraignment date. Days later, bail on the warrants was increased to $500,000 each after it was revealed that the Quaids had been detained by Canadian immigration officials and were considered a flight risk.
Their arraignment was continued until Nov. 2, 2010. When the Quaids once again failed to appear for their rescheduled arraignment date, the judge ordered bail forfeited for Evi Quaid, but agreed to recall Randy Quaid's bench warrant and ordered it held for two weeks until Nov. 16, which news accounts said was done in order to allow the actor to attend a Canadian immigration proceeding.
Three days later, on Nov. 5, a hearing was held where the judge reconsidered his decision and reversed himself, finding that since there was no good cause for Quaid's failure to appear, his bail should be forfeited "nunc pro tunc" as of the previous arraignment date.
American Surety Company, which posted Quaid's $500,000 bond, argued that since the actor—who earlier this year was turned down by Canadian immigration authorities in his bid for permanent resident status—was not required to be present at the Nov. 5 hearing, the judge's ordering of his bail forfeiture on that date violated § 1305 and was therefore void.
The Court of Appeal agreed.
Perren said:
"Had the forfeiture been declared on November 2, as it was with Evi's bond, or on November 16…it would have been valid. Quaid, however, was not required to be present at the November 5 hearing. Therefore, the trial court could not 'as a matter of law validly declare a forfeiture under section 1305 based on [his] nonappearance at a hearing he was not 'lawfully required' to attend…'"
Perren also ruled that the trial judge's error could not be corrected "by the simple expedient of issuing an order nunc pro tunc" which attempts to retroactively change an earlier edict.
"The failure to comply with [§ 1305 ] results in the loss of jurisdiction to later declare a forfeiture," he said.
Though American Surety succeeded in vacating Quaid's bail forfeiture, Perren affirmed the $500,000 forfeiture for Quaid's wife based on her failure to appear at her arraignment hearing.
American Surety had argued that the Quaids' fugitive status rendered the original $500,000 bail order void because the couple was not in "custody" at that time.
Perren said, "If that was the law, every bail bond posted on a failure to appear bench warrant would be void."
He said that American Surety assumed custody of the Quaids in September 2010 after they were first released from jail after their arrest.
The fact that the Quaids fled the state or were arrested in other proceedings (i.e., the Canadian immigration proceeding) does not exonerate the bond obligation," Perren said.
The case is County of Santa Barbara v. American Surety Company, B238601.
Copyright 2013, Metropolitan News Company