Thursday, November 21, 2013
Page 1
Prosecutor Ann H. Park Tosses Hat Into the Ring for Superior Court Judgeship
By a MetNews Staff Writer
Deputy District Attorney Ann H. Park told the MetNews yesterday that she is running for Los Angeles Superior Court judge in next year's primary elections.
Park filed papers Mon­day in order to begin raising money for the campaign. She has been a member of the Los Angeles District Attorney's Office for approximately 20 years, having specialized in prosecuting sexual assault and domestic violence cases for over 10 years.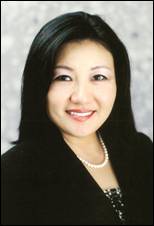 ANN H. PARK
Deputy District Attorney
She currently serves as president of the Korean Prosecutors Association. She said that her motivation for running is to "represent the women and minorities in the county" and to continue to "ensure that constitutional rights of the accused are not trampled on in any way."
Park said that she feels "very well qualified" for a judicial position based on her experience in the District Attorney's Office.
"As deputy D.A., I've seen victims from all over the county," she said. "They deserve a judge who understands the hardships they go through…Having sensitivity to victims is very important."
She said she would be a "compassionate and firm judge [who would] resolve matters in a fair way."
Park was born in Busan, South Korea. Her father was a Presbyterian minister who emigrated with the family to the United States in 1980 when she was 17 years old.
She studied psychology and women's studies at UC Berkeley before obtaining her law degree at Hastings College of the Law. She said her interest in women's issues and fighting the sexual abuse of children led to her decision to become a prosecutor.
Park said that her campaign is being consulted by David Gould, who is advising several other prosecutors running for the court. She said that she is not running against any other specific candidate, nor was she targeting any specific judicial vacancy "at this time."
She is one of eight deputy district attorneys—six of whom have hired Gould—seeking an as-yet-unknown number of open seats. Only two of the judges up for election next year have confirmed they are not running.
Given that she only filed her election paperwork days ago, Park said that she had not started building any press materials or participating in any fundraising efforts, but that she plans to start "very soon."
Park said she had obtained the endorsement of District Attorney Jackie Lacey as well as "many judges," but declined to name them at this time. She said she "loves the D.A.'s office," but also wants to "grow as a professional and a judicial officer in a different capacity."
Copyright 2013, Metropolitan News Company