Wednesday, November 20, 2013
Page 1
Longtime Southwestern Professor Myrna Raeder Dies at 66
By a MetNews Staff Writer
Myrna Raeder, a member of the Southwestern Law School faculty for nearly 35 years, has died at the age of 66.
Raeder died Saturday of breast cancer, the school said in a release. The school said the professor, a nationally known advocate for gender equity and criminal justice reform, would be remembered at a memorial service to be held in January.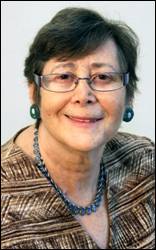 MYRNA RAEDER
1947-2013
"Myrna Raeder touched the lives of so many within the law school and the greater community over the decades," Dean Susan Prager said. "Her work was also recognized formally and informally outside the school in multiple ways. Without question, Myrna will be greatly missed, appreciated and remembered."
Raeder's honors included the American Bar Association's 2002 Margaret Brent Women Lawyers of Achievement Award, the 2003 Women Lawyers of Los Angeles Ernestine Stahlhut Award, induction into Hunter College Hall of Fame in 2005. The ABA Criminal Justice Section—which she once chaired—gave her its Charles R. English Award, which was presented earlier this month.
Matthew Redle, chair of the committee that selected Raeder for the English Award, described her at the time as "a tireless advocate on behalf of victims of child abuse and the wrongly accused, improving juvenile justice and supporting gender equity within the field." She was, "in ways literally too numerous to mention," he said, "a shining example of the value of subordinating the parochial interests of prosecution and defense in favor of the broader interests of justice and fairness."
Raeder, a graduate of Hunter College with a law degree from New York University and an LL.M. in Trial Advocacy from Georgetown, served two terms as president of the National Association of Women Lawyers and chaired the Association of American Law Schools Evidence Section and Section on Women in Legal Education.
Professor Catherine Carpenter, who worked alongside Raeder for 30 years, said in a statement:
"Myrna was a leader among women in the academy before there were Women's groups, and certainly before there was a critical mass of women in legal education. She embodied what it meant to be a trailblazer. Her network was vast, and was only surpassed by her knowledge and passion for women's and children's issues."
A member of the California, New York State and District of Columbia bars, she served on the University of San Francisco School of Law faculty and as a litigator with O'Melveny & Myers following her admission in 1972, before joining the Southwestern faculty in 1979.
She was the author or co-author of a number of articles, chapters, and publications, including Federal Pretrial Practice (3rd ed. 2000, Lexis Publishing) and Evidence: Cases, Materials and Problems (4th ed. 2013). Her more recent scholarship focused on gender issues raised by the federal sentencing guidelines, the impact of incarceration on women offenders and their children, correctional issues concerning women offenders, and wrongful conviction, the school said.
Raeder and her husband of 38 years, Terry Kelly, recently donated $100,000 to establish the Myrna Raeder Scholarship Endowment Fund at Southwestern. The endowment will provide scholarships for students who grew up in kinship or foster care or as the child of an incarcerated parent, Southwestern explained.
The endowment, Prager said, reflect's Raeder's "compassion and interest in assisting students who have overcome extraordinary life challenges to pursue their dream of a legal education."
In addition to her husband, she is survived by sons Tom and Mike Kelly. The family has asked that any memorial donations be made to the Myrna Raeder Scholarship Endowment Fund at Southwestern, information about which may be obtained from Associate Dean Debra Leathers at dleathers@swlaw.edu.
Copyright 2013, Metropolitan News Company