Friday, October 11, 2013
Page 1
Retired Superior Court Judge Nancy Brown Dies at 77
By a MetNews Staff Writer
Retired Los Angeles Superior Court Judge Nancy M. Brown has died at the age of 77.
Brown, who retired from the bench in 2004, died Monday following a brief hospitalization, her husband, attorney Laurence K. Brown, told the MetNews. She suffered from severe back problems and from peripheral neuropathy, he said.
In a 2003 interview, the jurist cited those back problems—which had caused her to miss several months of work—as her primary reason for stepping down.
"After 35 years, I have done my civic duty," she said at the time.
Brown graduated from Indiana University and Stanford University Law School and was an attorney for the State Compensation Insurance Fund and a public member of the California State Personnel Board prior to her appointment as Alhambra Municipal Court commissioner in 1969.
She was one of several members of the legal community featured in last month's Dinosaur Digest, the monthly newsletter of the Senior Lawyers Section of the Los Angeles County Bar Association. She told Deputy District Attorney Kathleen Tuttle, the newsletter's editor, that she actually planned to attend graduate school at Stanford in political science.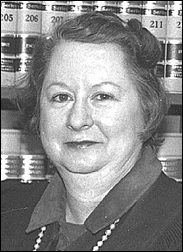 NANCY M. BROWN
1935-2013
That plan changed, she explained, when she attempted to register at the political science department.
"The acting department head took one look at her and explained that no staff was available to assist before 9:00 am; it was 8:50," Tuttle explained. "She thought for a split second, and made a beeline over to the law school and talked to the Assistant Dean who said 'maybe' they would consider her because they needed three ladies. 'We already have two, so maybe you're it.' …"
Tuttle continued the story:
"This episode changed her life, setting in motion a career in the law. It taught her something that she's never forgotten: Be prepared to maneuver past obstacles; avoid those who cannot be supportive; and stay self-motivated."
Brown became a Los Angeles Municipal Court commissioner in 1973. She was appointed judge of that court by Gov. Jerry Brown in November 1976.
Then-Gov. George Deukmejian elevated her to the Superior Court in 1984. She spent much of her career in criminal court, and was active in the California Judges Association—serving as vice president in 1984-85—and judicial education.
She also chaired the California Judicial Foundation and served on the boards of several charities.
Brown as a judge was known for being outspoken and independent.
She was often praised by attorneys who appeared in front of her, by judges who described her as a mentor, and by women who said they admired her efforts to purge the legal profession and court system of sexism. But she also clashed on occasion with supervisors and court executives.
She was publicly reproved in 1999 by the Commission on Judicial Performance, which said she disrupted the court's efficiency by barring former criminal court coordinator John Iverson from her courtroom for four years.
The judge said she had acted in a "quiet protest" against what she saw as Iverson's shabby treatment of the late Judge Gordon Ringer, who was moved with minimal notice from what was then the Criminal Courts Building—where he spent 22 years in the same courtroom—to Long Beach.
Brown said Iverson lied to Ringer, telling him that the move had to be expedited because Brown was anxious to move into his courtroom, when in truth she didn't want to move at all, Brown said at a special masters' hearing
The CJP, however, rejected several other charges against Brown, including one that she acted improperly when she attempted to arrange a marriage ceremony for convicted murderer Lyle Menendez. The plan was thwarted when the criminal courts supervising judge, the now-retired John Reid—in a move that Brown told the masters she was still angry over—canceled her order that both the groom and his brother and co-defendant Erik Menendez be brought from the jail to her courtroom for the ceremony, which was to take place prior to the brothers' sentencing for the shotgun murders of their millionaire parents.
Brown had earlier clashed with Presiding Ricardo Torres.
She criticized Torres openly after he had Brown's close friend, the late Kathleen Parker, who was 86 years old at the time, dropped from the list of assigned retired judges without discussing the matter with Parker personally.
And she told a reporter that her reaction was "completely unprintable" after Torres was quoted in a legal publication as saying he had not appointed women as supervising judges or committee chairs because he didn't "want to take chances."
Besides her husband, she is survived by their son, Gregory Brown of Santa Barbara.
Laurence Brown said that no services are planned. He suggested that any memorial donations be made to Pilgrim School, 540 S. Commonwealth Ave., Los Angeles 90020.
Copyright 2013, Metropolitan News Company