Friday, August 30, 2013
Page 3
Services Wednesday for Longtime Local Prosecutor John Zajec
By a MetNews Staff Writer
Services will be held Wednesday in Rancho Palos Verdes for longtime Deputy District Attorney John Zajec, who died Tuesday at the age of 63.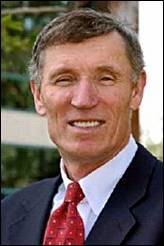 JOHN ZAJEC
District Attorney Jackie Lacey informed staff members by memorandum yesterday of the passing of Zajec, most recently head deputy in Torrance.
Lacey lauded Zajec's "impressive organizational skills, work ethic and ability to motivate others to take on difficult tasks." His work after joining the office in 1985—he had previously been a civil litigator and a licensed contractor who "remodeled houses and loved to build things," the district attorney noted—took him to Torrance, Van Nuys, the Major Fraud Division and the Major Crimes Division.
His work in Major Crimes included the role of co-prosecutor in the so-called "Ninja" murder. The case, involving two brothers convicted of the murder-for-hire of their parents, got its name because a witness said a suspect he saw running from the scene appeared to be wearing a martial arts outfit, which turned out to be a black sweatshirt with a hood.
Zajec's closing argument in the case persuaded more than one juror who might have voted otherwise to vote for conviction, Lacey said.
Zajec was named head deputy in Target Crimes in 2001, after having served as deputy-in-charge in Inglewood, assistant head deputy in Van Nuys, and as director of the Bureau of Branch and Area, Region I and Region II.
He was also an accomplished athlete—an All-America volleyball player at UCLA, where he played on three national championship team, a member of the U.S. men's national team, and a professional volleyball player before entering Loyola Law School. He earned his degree there in 1976.
He was "a kind and wonderful person who was loved by everyone he encountered, in truth 'a gentle giant,'" Lacey wrote. "In a letter to the office, a crime victim once described him as 'fabulous, fantastic, and marvelous,'" she added.
Survivors include his wife, Terri Zajec, his stepson, Kyle Vignoli, and sisters Mary Zajec and Barbara Kamporeale.
Wednesday's services will take place at Green Hills Cemetery, 27501 South Western Ave., Rancho Palos Verdes 90275. Information may be obtained by calling 800-597-7331, Lacey said, and flowers may be sent directly to the service or donations sent to Leukemia & Lymphoma Society at www.lls.org or 1131 Mamoroneck Ave., Suite 310, White Plains, N.Y. 10605.
Copyright 2013, Metropolitan News Company