Tuesday, March 12, 2013
Page 1
Former Superior Court Judge Patrick Murphy Will Not Be Prosecuted, D.A.'s Office Says
By a MetNews Staff Writer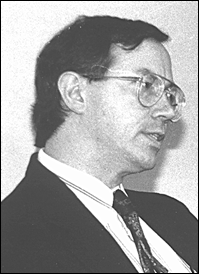 PATRICK B. MURPHY
Former Superior Court Judge
Former Los Angeles Superior Court Judge Patrick B. Murphy will not be prosecuted for misdemeanor domestic violence, a district attorney spokes­person said yesterday.
Prosecutors found insufficient evidence to file charges based on the ex-jurist's Dec. 27 arrest at his Alhambra home.
An Alhambra Police Department spokesperson said Murphy, 57, was taken into custody at 12:14 p.m. that day and was released on bail later in the afternoon.
The District Attorney's Office provided a copy of its charge evaluation worksheet rejecting the case for prosecution.
The following appears in the "Comments" section:
"Victim alleges Defendant grabbed her by the throat & tried to strangle her. No witnesses. Photos do not show any injuries or rednesss. 911 call does not indicate any stress in Victim's voice or demeanor. Victim refuses to prosecute. Defendant denies placing hands on Victim. Insufficient evidence to prove case beyond a reasonable doubt."
The form is signed by the complaint deputy, Kathleen Gentry, and the reviewing deputy, Maria Palemino.
The victim is not otherwise identified on the form, but a source who knows the former jurist said the victim was his current wife. Murphy is divorced from attorney Susan Sweetman-Murphy, who has not been an active member of the State Bar since 2007, according to records.
Had he been charged with violating Penal Code Sec. 243(e)(i) and convicted, Murphy could have been fined up to $2,000 and/or imprisoned in a county jail for up to one year.
Murphy resigned from the bench in May 2001, just as the Commission on Judicial Performance was preparing to oust him from office. The commission later found that Murphy had engaged in "a reprehensible course of conduct," which showed moral turpitude and dishonesty.
As Murphy had technically resigned before the commission was able to remove him from office, however, the harshest penalty the commission could impose was public censure, which left Murphy free to return to the practice of law.
Among the acts cited by the commission in its decision were Murphy remaining on the payroll of the state as a full-time, sitting judge, while missing some 500 days of work over a four-year and lying about it to his presiding judge.
After leaving the bench Murphy returned briefly to legal practice, until the State Bar in 2002 accused him of "moral turpitude, dishonesty and corruption," based on the same acts for which he was censured by the CJP. In 2004 the State Bar Court disbarred the former judge, saying that he did not possess "the integrity required to exercise the privilege of practicing law," and concluding that taking away Murphy's license was the only way to guarantee that the public and the courts would be protected from his "wanton wrongdoing."
Murphy was first admitted to practice law in California in December 1984. After his first several years of legal practice, he became the administrator and corporate counsel of a medical group.
He was elected to the now-defunct Citrus Municipal Court in June 1992, unseating incumbent Abe Khan. Khan is now a Los Angeles Superior Court judge.
Murphy lost an unusually vitriolic Superior Court contest to Karl Jaeger, now deceased, in 1996. He remained on the Citrus court and served as its presiding judge in 1997.
He became a Superior Court judge through unification in 2000.
Copyright 2013, Metropolitan News Company