Wednesday, July 10, 2013
Page 3
President Obama Nominates Carlos Moreno as Ambassador to Belize
By a MetNews Staff Writer
President Obama yesterday nominated retired California Supreme Court Justice Carlos Moreno as the next U.S. ambassador to Belize.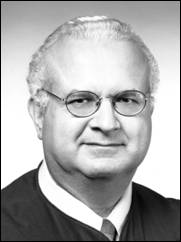 CARLOS MORENO
Retired Supreme Court Justice
If confirmed by the Senate, he would be America's ninth ambassador to the former British Honduras, which became an independent nation in 1981. He would succeed Vinai K. Thummalapally, a scientist and entrepreneur who was an Occidental College classmate of Obama and became the first Indian American to hold an ambassadorship.
Moreno, 64, has been of counsel to Irell & Manella since retiring from the high court in 2009. He acknowledged in a MetNews interview two months ago that he was being vetted for the post.
He said at the time that his judicial experience would stand him in good stead if he were to receive a diplomatic post.
"As a judge and a lawyer I've had to listen carefully, consider soberly and decide fairly, and to speak in measured tones," he said. "I think all of those attributes apply to being a representative of the United States abroad."
Moreno said he had been to Belize once, four years ago with the Orange County Hispanic Bar Association. In addition to the public service opportunity, he said, the appointment would give him the chance to indulge his interest in Mayan archeology.
The country has about 900 Mayan ruins, he explained. It is also "a great area for diving and any kind of sea-related activities," he said.
Moreno explained that his wife is an avid diver, even though he isn't.
Moreno was nominated by President Bill Clinton in 1998 to serve as a U.S. District Court judge and the Senate unanimously confirmed him. In 2001 he gave up his lifetime federal judgeship to accept Democratic Gov. Gray Davis' nomination to the state's high court.
He was reported to be on Obama's shortlist for the U.S. Supreme Court in 2009, prior to the appointment of Sonia Sotomayor.
Moreno is a Los Angeles native and graduate of Abraham Lincoln High School. His undergraduate degree is from Yale University and his law degree is from Stanford.
He was admitted to the State Bar in 1975. He was a Los Angeles deputy city attorney from 1975 to 1979, prosecuting misdemeanors and handling consumer fraud cases, then became a commercial litigator at Kelley, Drye & Warren.
He left that firm in 1986 when then-Gov. George Deukmejian appointed him to the Compton Municipal Court where he was presiding judge in 1989 and 1990. Deukmejian's successor and fellow Republican, Pete Wilson, elevated him to the Los Angeles Superior Court in 1993.
He is a former president of the Mexican American Bar Association.
Copyright 2013, Metropolitan News Company