Tuesday, August 13, 2013
Page 1
Former Presiding Judge Charles 'Tim' McCoy to Retire
By KENNETH OFGANG, Staff Writer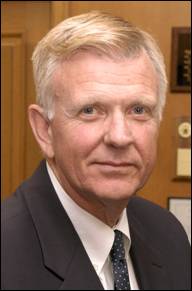 CHARLES W. McCOY
Former Los Angeles Superior Court Presiding Judge
Former Los Angeles Superior Court Presiding Judge Charles W. "Tim" McCoy told the MetNews yesterday he is retiring.
The jurist, who is on vacation, said he would not be returning to the bench, but will officially retire when he runs out of accrued leave at the end of the month.
"It's time for me to move on and give other great judges the opportunity to have the great assignments that I have had," McCoy said. "Serving on the bench has been the highlight of my professional career and I think all of the judges feel that way."
McCoy, 67, has been a member of the court for more than 20 years. He served as assistant presiding judge in 2007 and 2008, and as presiding judge in 2009 and 2010, and never drew an opponent for either position.
He also served on the state Judicial Council from 2005 to 2008.
The MetNews honored him as "Person of the Year" in 2008.
McCoy is a Washington, D.C. native who graduated from Purdue University in 1968. He then spent four years in the U.S. Marine Corps, earning the rank of captain, and received the Navy Commendation Medal for his service in Vietnam.
He graduated from the University of Texas School of Law in 1975 and was admitted to the State Bar later that year. He joined the Los Angeles office of Sheppard, Mullin, Richter & Hampton that year as well, and was at the firm for 17 years, being made a partner in 1982.
He left to become chief deputy and chief of staff to Matthew Fong, with whom he had worked at the firm prior to Fong being named to the State Board of Equalization by then-Gov. Pete Wilson. McCoy left that post when Wilson named him to the Superior Court, which he joined in January 1993.
He received an initial assignment to a felony trial court, and also became immersed in administrative and budget issues, serving on the court's Executive Committee in 1994 and 1995.
He later moved to a fast-track civil assignment downtown, then became one of the first judges to serve in the complex litigation courts. He went on to serve as supervising judge of complex litigation, and then as supervising judge of the civil departments, before becoming assistant presiding judge.
But his "most rewarding and enjoyable" assignment, he said, was the one that he received after serving as presiding judge—juvenile delinquency.
One of the perks of serving as presiding judge, he explained, is that you can choose your next assignment when you leave office. "I always wanted to do" delinquency cases, he explained.
The juvenile courts do a great job, he explained, as indicated by statistics showing that a majority of those who go through the system will not commit offenses as adults.
What he "did not enjoy," he said, was "the ever decreasing budget of the court during my time." He was an outspoken advocate for funding, clashing openly with then-Chief Justice Ronald George in 2010 after McCoy proposed that funds earmarked for construction projects be redirected to trial court operations.
McCoy said at the time that the Judicial Council was risking "catastrophe" by not redirecting the funds. George told the Los Angeles Times that McCoy was taking a "Chicken Little approach."
The council overwhelmingly rejected McCoy's proposal, and hundreds of Superior Court employees were laid off and the rest forced to take furlough days.
The problems have only gotten worse, McCoy noted yesterday, but he said "it's likely that we've hit bottom and the courts will now slolwly recover." That recovery "is going to take a long time and a lot of patience and I wish ....[Presiding Judge] Dave Wesley..and the chief justice Tani Cantil-Sakauye...my very best."
McCoy declined to discuss future plans—saying it would be appropriate to do so only after he is officially retired—other than to say he was looking forward to spending more time with his six grandchildren.
Copyright 2013, Metropolitan News Company