Thursday, October 10, 2013
Page 1
Deputy District Attorney Mathai Slates Campaign for Judge
By a MetNews Staff Writer
Deputy District Attorney Dayan Mathai said yesterday he intends to run for the Los Angeles Superior Court.
Mathai, in his 15th year in the office, told the MetNews he has been collecting endorsements and raising money for about a month. He has retained consultant Brendan Huffman and has the backing of District Attorney Jackie Lacey, former District Attorney Steve Cooley, and about 20 judges so far, he said.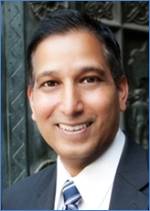 DAYAN MATHAI
Deputy District Attorney
He also has endorsements from the California Homicide Investigators Association and county Supervisor Don Knabe.
"I want to be a judge because I've had the opportunity to get some great trial experience," he said. Over his years as a prosecutor, he added, he "got to see how important the role of a judge is in seeing that everybody gets a fair trial."
He is also motivated, he said, by the experience of his parents, immigrants from India, who "didn't have the rights and privileges" that are sometimes taken for granted in this country.
Dayan also said he has had a lot of encouragement from fellow prosecutors, and from judges whom he has appeared before or worked with when they were deputy district attorneys, including Judges Sean Coen and Eric Harmon, both of whom won contested elections last year.
"They know me and they know my temperament," he said of the judges who have endorsed him. He also has support from several defense attorneys whom he has opposed in court, he said.
Mathai is currently assigned to the Organized Crime Division, to which he was reassigned after more than six years in the Hardcore Gang Division.
He tried more than 30 murder cases of gang members, including that of Gabriel Alexander Ronquillo, sentenced to death last year for two murders committed five years apart. Jurors found as a special circumstance that Ronquillo, 39 at the time of conviction, committed the second murder—which occurred in 2004—as an active gang member.
He obtained indictments earlier this year of 25 alleged MS-13 gang members for extortion and conspiracy to extort food trucks in and around Hollywood. His website describes the case as "the largest criminal case of its kind in Los Angeles County history."
Mathai is one of four prosecutors who have made known their intention to pursue an as-yet-unknown number of seats that will be open in the June primary. He realizes he may wind up running against a colleague, he said.
"It's not the ideal situation, but I'm confident in my qualifications and experience and focusing on what I need to do to get my message out," he said.
A Republican, he said he has not applied for a judicial appointment.
The other deputy district attorneys seeking election to the court are Alison Matsumoto Estrada, Stacey Okun-Weise, and Donna Hollingsworth Armstrong. Also, Douglas Weitzman, a real estate broker and civil lawyer who has run four times before, announced on a legal marketing website that he intends to announce another candidacy in February.
Copyright 2013, Metropolitan News Company