Wednesday, August 21, 2013
Page 1
Actress/Educator Sues College, Claims Race, Gender Bias
By a MetNews Staff Writer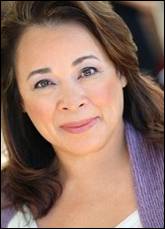 ALMA MARTINEZ
Actress/Educator
An actress and former theater teacher at Pomona College sued the school yesterday, claiming she was denied tenure and terminated from her assistant professorship because she is female and of Latin origin.
Attorneys from the Mexican American Legal Defense and Educational Fund filed the Los Angeles Superior Court complaint on behalf of Alma Martinez, 60. The complaint alleges that Martinez—who had a role in the 1981 film "Zoot Suit"—was denied tenure in January and let go in June, despite having fulfilled the tenure requirements of "intellectual leadership, professional achievement, and effective service."
The school responded with a statement:
"Pomona College has one of the most diverse faculties, in terms of both gender and race, of any college of its type in the country. The tenure review process at Pomona is designed to be both exhaustive and fair. However, since this matter is now under litigation and involves private information about a former employee, we cannot comment further."
The school is a private institution of about 1,600 students located in Claremont.
The complaint says Martinez was employed by the college for about six years. In September 2011, the school's Department of Theatre and Dance recommended that she be promoted to associate professor with tenure, she alleges.
"Zoot Suit," adapted from the earlier play of the same name, told a story based on the 1942-1943 "Sleepy Lagoon" trial in which nine young Mexican-American men were convicted of murder and several others of lesser offenses. The trial spurred allegations of racial bias, which the Court of Appeal rejected, although it found serious irregularities in the trial and threw out all of the convictions.
The film also chronicled the "Zoot Suit Riots" of 1943, involving U.S. servicemen and young Latinos. Martinez, who appeared in the play as well as the film, staged the play at Pomona College in 2008 and performed it with The National Theater Company of Mexico in 2010, according to an article on the college's website.
The Internet Movie Database lists more than 40 film and television roles for Martinez, including that of Sgt. Elizabeth Cruz in "The New Adam-12" television series that ran from 1989-91. She once portrayed an attorney on the 1987 daytime courtroom drama "Superior Court."
Her biography on imdb.com says she has had more than 100 stage roles.
MALDEF national senior counsel Victor Viramontes told The Associated Press that his client's department "backed her 100 percent for tenure" and Martinez was never told why it was refused. Martinez has never been granted access to documents that might detail reasons for her termination, but it appears that her academic qualifications and scholarship were not questioned, Viramontes said.
"The totality of what she was given was an email where she was told that there were some questions regarding student reviews," he said. "Which students and which classes, we don't know."
Thomas A. Saenz, MALDEF president and general counsel, said in a statement:
"Discrimination in the tenure process has a particularly pernicious impact because professors are role models for the many Latino university students whose success in higher education is essential to our nation's future."
The case is Martinez v. Pomona College, BC518863.
Copyright 2013, Metropolitan News Company