Tuesday, November 19, 2013
Page 1
Prosecutor Magno Says She Will Run for Superior Court
By a MetNews Staff Writer
Deputy District Attorney Teresa Pineda Magno has announced that she will run for Los Angeles Superior Court judge in next year's primary.
Magno has served in the District Attorney's Office for over 14 years, having recently completed a seven-year assignment in its Hardcore Gang Division. She told the MetNews that she is running for the position "to continue making a difference in our justice system."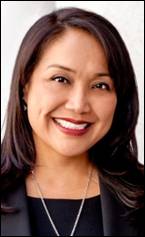 TERESA PINEDA MAGNO
Deputy District Attorney
Magno said she has thus far spent a total of 1,325 days in trial as a prosecutor, conducting 41 murder trials and 83 felony trials overall. Her campaign website states that she attained a 100 percent conviction rate in the murder cases she tried and a 97 percent conviction rate for all gang-related cases she was involved with.
"Given my experience, I will be ready on day one," she said.
Magno said her inspiration for joining the District Attorney's Office stemmed from her experience growing up the Philippines and witnessing police corruption and government abuse. Her family emigrated to America when she was 16.
Prior to becoming a deputy district attorney, Magno worked for the now defunct civil and immigration law firm of Karp & Castelblanco for a year in addition to serving as a research attorney for then-Los Angeles Superior Court judges Judith Ashmann-Gerst and David Horowitz. She obtained her law degree from the UCLA School of Law where she was president of her graduating class.
Magno cites her cases with the Hardcore Gang Division and her work with gang prevention programs in schools as the experiences that stand out the most during her time in public service, pointing to "the positive impact of improving lives" for people in gang-infested communities.
Her announcement to run marks the first time she is seeking an elected judicial office. She also applied for appointment to the bench two years ago.
Magno does not claim to be running against any other specific candidate in the District Attorney's Office for the limited number of judicial positions that will be vacant in the upcoming elections.
"No candidate would approach it that way," she said, adding that every candidate from the District Attorney's Office would be an "exemplary candidate."
Magno is a registered Democrat, but said she is running a non-partisan campaign.
Her campaign website lists numerous endorsements, including those from 30 judges serving on the Los Angeles Superior Court, District Attorney Jackie Lacey, former District Attorney Steve Cooley and the California Homicide Investigators Association.
If she is unable to obtain a position on the bench, Magno said, "I would remain happy being a D.A. for the rest of my life."
Copyright 2013, Metropolitan News Company