Monday, April 15, 2013
Page 1
Senate Sets Vote for Today on O'Connell Nomination
By a MetNews Staff Writer
President Obama's nomination of Los Angeles Superior Court Judge Beverly Reid O'Connell to be a U.S. district judge for the Central District of California has been set for a Senate vote today.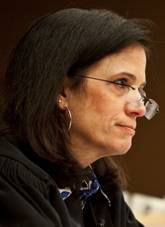 BEVERLY R. O'CONNELL
Superior Court Judge
Senators Thursday reached a unanimous consent agreement to bring O'Connell's nomination, along with those of two other potential district judges, to the floor for debate and votes. The O'Connell vote is expected to occur at about 5:30 p.m. EDT, with votes on Analisa Torres and Derrick Kahala Watson expected later in the week.
Torres is a trial judge in Manhattan and would sit in the Southern District of New York. Watson is an assistant U.S. attorney for the District of Hawaii, where he would serve as a judge if confirmed.
Watson, a graduate of Harvard University and Harvard Law School, is a member of the State Bar of California and practiced at two San Francisco firms as well as at the U.S. attorney's office in that city before moving to Honolulu in 2007. He heads the civil division of the U.S. attorney's office there and reportedly would be the first federal judge of Native Hawaiian ancestry.
The confirmation of O'Connell would fill a seat that has been vacant since Judge Valerie Baker Fairbank took disability-related senior status last year. O'Connell was an assistant U.S. attorney at the time of her appointment to the Superior Court in 2005 by then-Gov. Arnold Schwarzenegger.
She had been with that office for 10 years, after having spent five years at the law firm of Morrison & Foerster. O'Connell received her law degree from Pepperdine University in 1990.
For a five-month stint in 2010 and 2011, she sat under assignment, on Div. Eight of this district's Court of Appeal. She became supervising judge of the North Valley District Jan. 1, and has also served on the Superior Court's Executive Committee.
O'Connell received the highest possible rating, "Well Qualified" from the American Bar Association prior to her confirmation hearing Dec. 12. That nomination died with the adjournment of Congress, but the jurist was renominated in January—along with 32 other judicial nominees from around the country—and was approved without dissent by the Judiciary Committee in February.
Copyright 2013, Metropolitan News Company