Thursday, December 12, 2013
Page 1
TV Meteorologist's Gender Bias Suit Held SLAPP
By KENNETH OFGANG, Staff Writer
A lawsuit accusing a broadcaster of discriminating in favor of attractive young women in its selection of weather anchors infringes on protected activity within the meaning of the anti-SLAPP statute, the Court of Appeal for this district has ruled.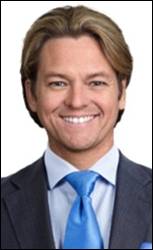 KYLE HUNTER
TV Meteorologist
"The allegations in [Kyle] Hunter's complaint make clear that the injury-producing conduct underlying his employment discrimination claims consists of CBS's decisions about whom to hire as the on-air weather anchors for its KCBS and KCAL prime time newscasts, Justice Laurie Zelon wrote for Div. Seven. "….Indeed, all of the allegations underlying Hunter's discrimination claims relate to the allegedly unlawful manner in which CBS selected its weather anchors. CBS contends that this conduct–the selection of a weather anchor–qualifies as an act in furtherance of the exercise of free speech. We agree."
The court reversed the trial judge's order denying the defendant's motion to strike the lawsuit, and sent the case back to the trial court to consider whether the plaintiff can avoid dismissal by showing that he is likely to prevail on the merits. Zelon's Nov. 18 opinion was certified yesterday for publication.
Suit Filed
Hunter, who works for the Fox affiliate in San Diego, filed suit last year. He claimed that CBS Broadcasting, Inc., which owns and operates KCBS and KCAL, discriminated against him and other qualified men over 40 in 2010 when it promoted Jackie Johnson to the KCBS primetime newscast and replaced her at KCAL with Evelyn Taft, who had worked in San Francisco, and before that in smaller California markets.
Johnson replaced longtime local weathercaster Johnny Mountain, whose contract was not renewed. A KCAL job notice regarding the vacancy caused by Johnson's move was a "sham," Hunter claimed, because the station had already decided to hire Taft, largely because of her youth, looks, and gender.
Hunter said he was told by the station manager that he wasn't considered for the job because the station "'catered to . . . male viewers'" and that he "'wouldn't be the type men would want to look at.'"
The station countered with a declaration by news director Scott Diener, who said the weather anchors were selected on the basis of meteorology experience, on-air presence, and chemistry with other members of the news team. He added that he had considered Jim Castillo, a male over 40, as the co-finalist with Taft, and had then promoted Josh Rubenstein to weather anchor on the KCBS morning news and hired another over-40 male, Richard Fields, as weekend weather anchor.
In no instance, he said, had he considered age or gender in the hiring decisions.
Trial Court Ruling
Los Angeles Superior Court Judge Ramona G. See denied CBS' anti-SLAPP motion, agreeing with the plaintiff that the suit was essentially about discrimination, not free speech. She did not reach the second prong of the anti-SLAPP analysis, the likelihood of the plaintiff prevailing.
Zelon, in her opinion for the Court of Appeal, said the anti-SLAPP inquiry should have focused on the defendant's conduct—its hiring decisions—rather than on its alleged discriminatory motives. Given the widespread interest in television weather reports—the defense presented evidence it was the most-watched portion of the newscast—the decision on who to hire to deliver the forecasts must be considered a matter of public interest within the meaning of Code of Civil Procedure § 425.16, she said.
The case, she said, "cannot be meaningfully distinguished from" Tuszynska v. Cunningham (2011) 199 Cal.App.4th 257, which applied the statute to an attorney's sex discrimination suit against a prepaid legal services plan, which the plaintiff claimed referred cases to less experienced male lawyers due to the plaintiff's gender.
"Hunter's employment discrimination claims assert that CBS did not hire him to serve as a weather anchor because of his age and gender," Zelon wrote. "As in Tuszynska, his claims are thus based squarely on CBS's decisions regarding its choice of a weather anchor, which were acts in furtherance of its First Amendment rights. Whether CBS had a gender or age-based discriminatory motive in not selecting Hunter to serve as a weather anchor is an entirely separate inquiry from whether, under section 425.16, Hunter's discrimination claims are based on CBS's employment decisions."
Attorneys on appeal were Keri E. Campbell and Sarah L. Cronin of Kelly Drye & Warren for CBS and Gloria Allred, Michael Maroko and John Steven West of Allred, Maroko & Goldberg.
The case is Hunter v. CBS Broadcasting, Inc., 13 S.O.S. 6278.
Copyright 2013, Metropolitan News Company