Tuesday, December 17, 2013
Page 3
C.A. Affirms Legal Malpractice Award for 'Birds' Actress Tippi Hedren
By JUSTIN LEVINE, Staff Writer
The Fourth District Court of Appeal yesterday upheld a jury's legal malpractice judgment of over $1.4-million against an attorney representing actress Tippi Hedren in a personal injury lawsuit.
Hedren sued her attorney, Joseph D. Allen, after he dismissed her lawsuit without prejudice without first obtaining an agreement from the defendants to toll the statute of limitations. The complaint was refiled about a month later, after the statute of limitations had run.
The trial court ended up dismissing the case after the defendants filed a demurrer based on the filling deadline.
Allen conceded that he was negligent in dismissing the underlying action without a tolling agreement, but contested the jury's award based on the argument that it was excessive and that Hedren had not proven that she would have been entitled to damages in the underlying personal injury case had it been allowed to proceed to trial.
2006 Incident
The case stemmed from an incident in June 2006 when Hedren was filming a television show at a San Diego studio's sound stage. Roughly a gallon of water had accumulated on a plastic tarp under the roof of the sound stage before it gave way and collapsed on to the actress's head at high speeds.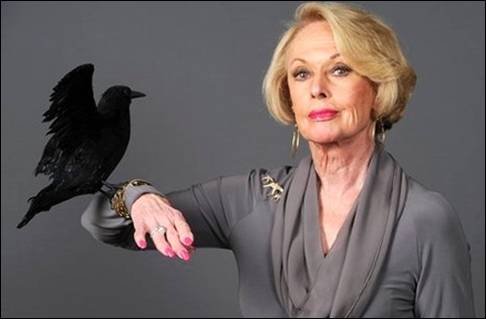 —AP
Actress Tippi Hedren, star of the 1963 Alfred Hitchcock film 'The Birds', poses with a prop bird.
Hedren testified that it felt like "part of the ceiling had dropped on my head."
The accumulated water was thought to have been caused by a bird's nest that had blocked a condensation tube in the structure's air conditioning system. Hedren's first notable film role was in Alfred Hitchcock's The Birds, released in 1963, where she portrayed a California socialite who is attacked by a large gathering of birds in a small seaside town.
Hedren alleged that the accident exacerbated a condition that caused her to suffer from chronic and debilitating headaches. She said her headaches first began in the mid-1990s, but that a spinal fusion surgery she underwent in April 2006 had relieved her symptoms.
She argued that the water accident approximately two months later caused her headaches to return and that she had continuously suffered from them ever since.
Hedren had hired Allen to sue the owner and lessee of the sound stage for negligence. After the case was dismissed due to the statute of limitations bar and Hedren sued Allen for malpractice, a jury trial was held to determine what Hedren reasonably could have expected to recover but for her attorney's negligence.
Jury Award
A jury awarded Hedren a total of $1,483,708 in damages, consisting of $213,400 for past lost earnings; $170,000 for future medical expenses; $440,308 for future lost earnings and lost earning capacity; and $660,000 for both past and future noneconomic losses, including physical pain and mental suffering.
Allen appealed, arguing that the trial court erred in refusing to give jury instructions on superseding causation and contributory negligence, that the evidence hadn't properly established that the water accident had been the cause of Hedren's returning headaches and that the testimony regarding her future earnings capacity was speculative. He also argued that the total award was excessive as a matter of law.
Justice Terry O'Rouke authored the unpublished opinion for Div. One.
O'Rourke rejected Allen's argument that the underlying cause of the defendants' liability had been superseded by the production company's failure to act when it was previously notified that water had been dripping on to the soundstage. The production company had not been a party to the complaint by the time Allen had it voluntarily dismissed.
O'Rourke wrote:
"Water dripping onto a floor from a ceiling or roof would not ordinarily cause a reasonable person who does not own or control the premises to expect that a large deluge of water falling from the ceiling is imminent or even likely to occur. A person might reasonably surmise from such dripping that the roof or an air conditioning unit is leaking, but there is no evidence in the record of any circumstance that should have put the [production company] on notice that a large amount of water had accumulated above the plastic tarp covering the roof and was likely to suddenly burst through the tarp above and fall onto the stage below. Accordingly, [its decision to continue] to rehearse and film scenes on the sound stage despite the dripping water did not constitute conduct that was so highly extraordinary as to be unforeseeable."
Insufficient Evidence
He said that the trial court also correctly decided there was insufficient evidence to warrant an instruction on comparative fault based on Hedren's own negligence. Allen had argued that Hedren's own actions had contributed to her injury by virtue of the fact that she had not moved from an area where she first noticed dripping water before the accident. Allen also cited two "stage falls" she performed during the production that he said could have contributed to her condition.
O'Rourke said that "a reasonable person exercising due care would not reasonably foresee that standing under a ceiling leak is likely to result in being struck by a sudden release of a gallon of water from the ceiling" and that there was no evidence that "stage falls" caused any injury to Hedren since they were not "actual falls."
Citing a "due deference" for the jury's award that should only be overturned for an abuse of discretion, O'Rourke said that expert testimony properly allowed a reasonable jury to conclude that the water had caused Hedren's current condition and that the estimated losses of her future earnings was supported by evidence which included numerous staring roles that had been offered by the time of trial.
The damage award, O'Rourke said, was not "so disproportionate to the evidence that it shocks the conscience and suggests passion or prejudice on the part of the jury."
The case is Hedren v. Allen, D061186.
Copyright 2013, Metropolitan News Company