Friday, April 5, 2013
Page 9
City of Hope Support Group Devotes Funds to Cancer Researcher
By a MetNews Staff Writer
The City of Hope Board of Governors, a financial support group for the Duarte-based national cancer center, has decided to provide major funding to the innovative research efforts of Dr. John Yim, an associate professor at the facility's Division of General Oncologic Surgery, according to the board's April newsletter.
The newsletter announces: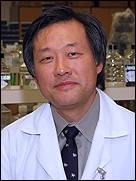 JOHN YIM
MD, Associate Professor,
City of Hope
"After careful and thorough investigation, our selection committee unanimously agreed to support cancer research by Dr John Yim who combines Chinese Traditional and Western Medicine."
The board "has committed to raise $100,000 for Dr. Yim," Mildred Marin, the group's coordinator, said yesterday.
Yim was guest speaker at the board's February meet­­ing. Among the board members in attendance were Los Angeles Superior Court Judge Daviann Mitchell Braun and her husband, attorney Brent Braun, as well as Los Angeles City Council member Dennis Zine.
The newsletter notes:
"Dr. Yim works with natural compounds found in Traditional Asian Medicine, as well as super-foods such as blueberries, mushrooms, and soy. His laboratory has discovered a compound, baicalein, which activates a protein that causes cancer cells to kill themselves and makes them more susceptible to our immune systems. Baicalein can also inhibit cancer cell growth by inhibiting a pathway involved in diabetes and aging."
The article continues:
"Baicalein may concentrate in glandular tissue including breast, prostate, ovary, even colon, and according to his studies can shrink tumors in mouse models, even those that are resistant to chemotherapy. Dr. Yim's therapy containing baicalein can be combined with chemotherapy to shrink tumors even further, while perhaps lessening the toxicity of the chemotherapy."
The newsletter points out that City of Hope, "[u]nlike almost any academic institution in the country," is able to manufacture the baicalein pills, for use by patients there. The advisory adds:
"Our support will provide the seed for studies that will ultimately be performed in patients merging Eastern and Western Medicine, and hopefully resulting in more effective, less toxic, and maybe even preventative treatments for cancer patients."
Copyright 2013, Metropolitan News Company