Friday, October 18, 2013
Page 1
S.C. Asks for New Briefing in Case of Sergio Garcia, Undocumented Immigrant Seeking Bar Admission
By a MetNews Staff Writer
The California Supreme Court yesterday asked for briefing regarding the effect of a new state law on an undocumented immigrant's bid to become a licensed attorney.
The justices, at their weekly conference in San Francisco Wednesday, vacated the submission of Sergio Garcia's case, which was argued Sept. 3. Their order was made public yesterday.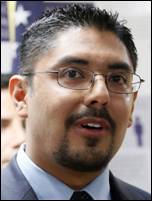 SERGIO GARCIA
State Bar Applicant
They instructed attorneys for Garcia and the State Bar of California to file briefs regarding the impact of AB 1024, which was signed into law by Gov. Jerry Brown on Oct. 5. Amici who have previously filed briefs in the case may address the issue as well, the court said.
The legislation, effective Jan. 1, adds the following language to the State Bar Act:
"Upon certification by the examining committee that an applicant who is not lawfully present in the United States has fulfilled the requirements for admission to practice law, the Supreme Court may admit that applicant as an attorney at law in all the courts of this state and may direct an order to be entered upon its records to that effect. A certificate of admission thereupon shall be given to the applicant by the clerk of the court."
The legislation passed the Assembly 62-4 and the Senate 29-5.
The high court said in its order that the case will be resubmitted Jan. 2, the day after the new law becomes effective, so that the justices will have 90 days from that date to render a decision. The deadline for briefs is Nov. 15, and optional replies are due Dec. 2.
When the case was argued last month, the justices suggested that they would have to deny Garcia admission because of 8 U.S.C. § 1621, which declares that declares that an undocumented alien "is not eligible for any State or local public benefit," including a professional license. The statute contains an exception, however, when state legislation expressly permits such aliens to receive the benefit.
The jurists were skeptical of the State Bar's position that because the high court, and not the executive branch, issues law licenses, § 1621 does not apply.
Following the argument, however, lawmakers took AB 1024, which dealt with an unrelated issue, and amended it to make it a vehicle for the possible licensure of Garcia and future applicants in his position.
Copyright 2013, Metropolitan News Company